Deaths due to waterborne diseases are not unusual in India. Cholera, Diarrhea, Jaundice and Hepatitis are some of the common diseases that are caused due to unhygienic water. This is because a large part of our country lacks an advanced purification mechanism that needs to be incorporated for purifying water coming from various sources. Therefore, to make water safe for drinking purpose, UV water purifiers have become a necessity in Indian households.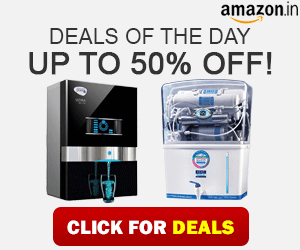 What is UV Water Purifier?
UV water purifiers offer one of the most effective and efficient ways of purifying residential drinking water that is inflicted with microbial contaminants. UV water purifiers help in deactivating disease-causing bacteria, viruses, protozoa and cysts that are almost invisible and very harmful for health. UV water purifiers are capable of inactivating 99.99% pathogens without adding chemicals or changing the taste of the water.
Top UV Water Purifiers Price List India