Livpure has become a leading brand in the water purifier industry in a very short period.
Livpure, a part of SAR Group, is the company which is well known for its quality appliances like water purifiers and air purifiers. Livpure offers water purification solutions for both home and commercial use.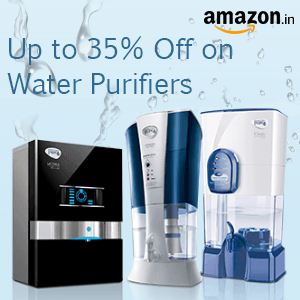 Livpure now offers a complete range of water purifiers starting from the basic gravity based water purifiers to high-end multi-stage RO water purifiers with advanced features like touch control and Bluetooth.
Good features, quality purification, great prices and reliable installation and service support are the main reasons why Livpure has become a trusted name in the water purifier market.
Livpure is also among the best selling water purifier brands on all the leading online stores like Amazon and Flipkart.
Here is best-selling Livpure water purifier price list updated on: March 21st, 2019
Livpure Water Purifier Price List
Show all

RO + UV

RO + UF

RO + UV + UF
Why Choose Livpure RO Purifiers?
There are various models and different price ranges of Livpure water purifiers in the Indian market.
Livpure's advance purification mechanism ensures that dirt, parasites, bacteria, viruses, dissolved solids, and other harmful substances are effectively removed from the water.
Livpure has a wide range of purifiers to match the varying water purification needs of the Indian customers. If you are looking for a portable non-electric water purifier then you can choose from Livpure's gravity based water purifiers and if you are looking for advanced purification then Livpure's range of UV and RO purifiers is all you need.
Unique Features of Livpure Water Purifiers
Attractive and affordable prices
Advanced & reliable purification
Clean and intelligent design
Huge nationwide sales & support system
Full range of water purifiers
Customer friendly and reliable service support
Livpure Customer Services
Livpure has a country-wide presence with more than 10000 retail partners and 300 distributors. Livpure is also exporting it's world-class water purifiers to over 15 countries across the globe. Livpure offers a strong nationwide support with it's 46 special hubs, 1450 service centers and over 450 service engineers across the country.
Livpure's on-ground customer support is really good and has been appreciated by customers.
Livpure Customer Care Number
Make a call on Toll-Free customer service number – 1800 – 419 – 9399
Write an e-mail to customer care support – [email protected]
You can register your Livpure complaint online through this form.