HUL Pureit Marvella UV 4 Litre Water Purifier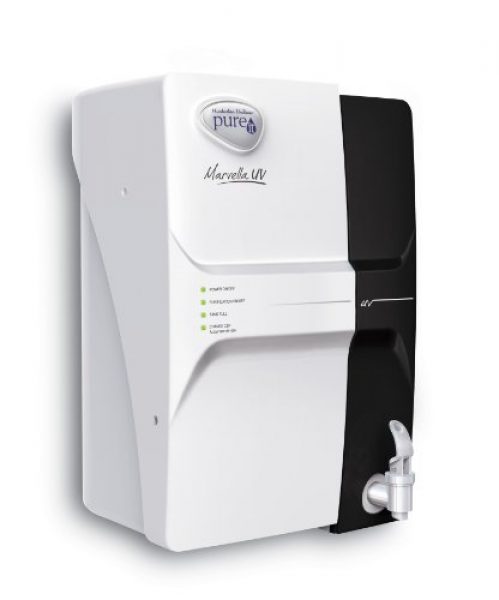 Advance Alerts for Filter Change
Compact & Stylish Design
Voltage Fluctuation Guard
HUL Pureit Marvella UV is the most advanced UV purifier with a 15 Days advance alert system and 4 stage purification technology.
Features of HUL Pureit Marvella UV Water Purifier
Advance Alert System Warns you 15 days in advance when your purifier will stop working
High Intensity UV Lamp: Powerful 11 W UV lamp for enhanced safety, UV lamp has a long life of 11000 hours.
Storage Capacity of 4 litres.
Indicators for power on/off, tank full, purification on/off, and change CSF.
Automatic Shut Off: Stops water flow when UV lamp or any other critical component is not working
No AMC: Lower cost of maintenance
Fully automatic: Works without any intervention. The system senses if the water tank is not full, purifies and stores water automatically
Advanced voltage fluctuation guard Protects your purifier from sudden voltage fluctuation ranging between 90 to 270 Volts
Equipped with break resistant tap which is tested for up to 50000 operations
1 Year Manufacturer Warranty

Rs. 7,999

Rs. 9,299
×
Product prices and availability are accurate as of the date/time indicated and are subject to change. Any price and availability information displayed on Amazon.com (Amazon.in, Amazon.co.uk, Amazon.de, etc) at the time of purchase will apply to the purchase of this product.
7 new from Rs. 7,999

HUL Pureit Marvella UV water purifier meets the stringent criteria of Environment Protection Agency, EPA (USA) for harmful virus and bacteria removal. Apart from USEPA the purifier has been tested for its purification quality by leading laboratories around the world, some of them are-
Scottish Parasite Diagnostic Laboratory (UK)
Mexican Institute of Water Technology [IMTA] (Mexico)
PT TUV NORD Indonesia Laboratory Division (Indonesia)
BioAgri Laboratories (Brazil)
National Institute of Cholera and Enteric Diseases (India)
4-stage Purification Technology
Stage 1: Sediment Filter removes fine and coarse particulate impurities.
Stage 2: In the 2nd stage water passes through the Activated Carbon Filter that removes chlorine and organic impurities like harmful pesticides. It also absorbs odor causing organic compounds in the water.
Stage 3: In the 3rd stage water passes through the Sediment Plus Filter which ensures that no carbon particles and other impurities enter the UV chamber.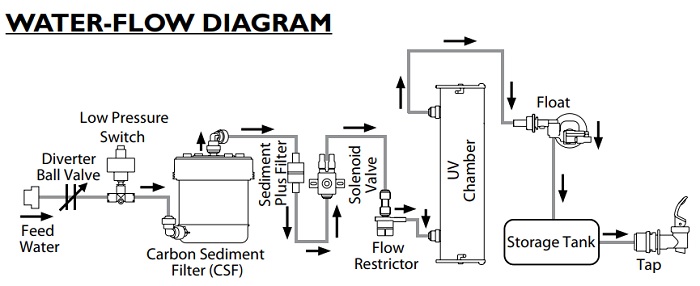 Stage 4: In the 4th and final stage, the high intensity UV Lamp inactivates bacteria, viruses and parasites to deliver safe drinking water. The water is then stored in a 4 Litres water storage tank for consumption anytime.
Advance Alert system
HUL Pureit Marvella UV Purifier automatically warns you 15 days in advance when the filters need to be replaced. This gives you sufficient time to replace the filter which give you 3000 litres of purified water.
This HUL Pureit water purifier automatically shuts off the purification upon expiry of the filter. The purification resumes once the filters are replaced.
Design and Capacity
Available in an eye catchy combination of white and black, the HUL Pureit Marvella flaunts a compact and stylish design which is sure to brighten the looks of kitchen. The purifier is made from food grade plastic which makes it durable and hygienic.
The front panel sports various LED indicators for power on/off, tank full, purification on/off, and change CSF.
Pureit Marvella UV can be mounted on a wall or easily placed on counter/table top.
The purified water storage tank can store up to 4 litres of purified water.
Device Specifications
Model Name
Marvella UV
Storage Capacity
4 Litres
Purification Capacity
350 ml – 750 ml/min
Purifying Technology
UV
Material Of Construction
Food safe, non-toxic, engineering plastics
Filters & Cartridges
Carbon Sediment Filter, Activated Carbon Filter, Sediment Plus Filter, UV Chamber
Weight
4 Kg
Electrical Type
Electrical and Storage
Width
26.5 cm
Height
39 cm
Depth
22.5 cm
Pressure range
5 psi to 30 psi
Installation
Wall Mounting & Counter Top
Warranty
1 Year
Found this review for HUL Pureit Marvella UV Water Purifier useful? Please leave a comment below or share your love by connecting with us on Facebook.
UV Purifier with Advance Filter Change Alert and Cool Design
Installation, Warranty & Service
8
PROS
Advance Alerts for Filter Change
Compact & Stylish Design
Voltage Fluctuation Guard
CONS
Not Suitable for High TDS Water