AO Smith is an American multinational company, which is popularly known for its water heaters/geysers.
Recently, it has launched water purifiers in the segment of home appliances in the Indian market.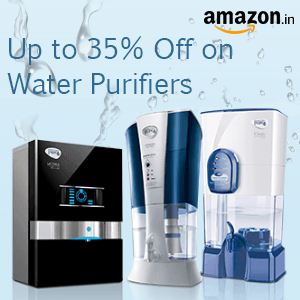 AO Smith has launched an advanced 5 stage RO with 100% purification system.
The 5-stage purification process involves – pre-filtration, sediment filtration, pre-carbon, RO membrane, and silver activated post-carbon.
AO Smith's purification rate stands at an average of 15 liters per hour. Also, depending upon the quality parameters of the input water.
You can check individual product score, user reviews, features and can compare prices.
Here is top AO Smith water purifier price list updated on: March 21st, 2019
AO Smith Water Purifier Price List
Why Choose AO Smith Water Purifier
AO Smith uses its twin advance alert technology – sediment + pre-carbon and RO membrane + activated silver.
Other than these, it has three important indication mechanisms – power on indication, tank full indication, and auto-flush indication.
When the cartridge reaches 90% of its life, the indicator tells about its status. And upon reaching 100% of life the purifier stops the purification process.
AO Smith also incorporates advanced unique SSM technology, which stands for side stream membrane technology. This technology is very crucial in purifying water as well as removing the unwanted salts from water. It results in an increased life of the RO membrane.
Unique features of AO Smith Water Purifier
One Touch Electronic Dispensing
Dispenses mineralized Hot Water
2 Years warranty on RO Membrane
Double Purification with RO +SCMT
7 Stage technology with Hot water
Unique Patented Side Stream RO
MINTECH technology with child lock
WQA certified PATENTED SSM tech
Intelligent display of information.
AO Smith Customer Services
AO Smith employs a professional approach as well as prompt customer service.
Consumers are highly pleased with the water purifier's performance and also the hot water option is really helpful for Indian families with kids.
Within 3 months of the purchase, the company representative comes as part of free regular maintenance in the first year.
Only AO Smith authorized customer representatives are allowed to visit the homes. Being a renowned international brand, AO Smith is satisfactory in terms of service.
AO Smith Customer Care Helpline Number
Make a call on Toll-free Number India: 1800-103-2468 & 1800 103 2468
Write an Email to AO Smith India at: [email protected]
You can also Whatsapp AO Smith: +91 9941032468