We all know the popular brand Hindustan Unilever (HUL). HUL Pureit has been in the market for a very long time.
Pureit water purifiers, a revolutionary range of water purifiers from the house of Hindustan Unilever, is all you need to keep your family safe from the waterborne diseases.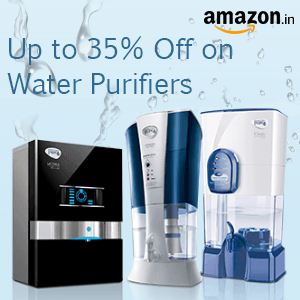 HUL claims that its scientists have put years of research to come with a technological breakthrough leading to the creation of Pureit RO water purifiers. It removes metals and salts from water that contains high TDS level.
Here is the best-selling HUL Pureit water purifier price list, last updated on: March 21st, 2019
Pureit Water Purifier Price List
Show all

RO

RO + MF

RO + UV

Gravity Based
Pureit RO Purification Technologies
The purification process of Pureit water purifiers includes a 6 stage purification process:
Pre-Sediment Filter,
Pre-Ro Carbon Filter,
Post-Carbon Sediment Filter,
Reverse Osmosis Membrane,
UV Reactor, and
Post-RO Carbon Filter
Pureit RO water purifiers feature an Advanced Voltage fluctuation guard that protects the purifier from unexpected voltage change and a Digital Advance Alert System that reminds you before the GermKill Kit™ expires.
Why Choose Pureit Water Purifiers?
HUL Pureit is one of the most selling water purifiers brands in India because of its complete protection of all water-borne diseases, unmatched convenience, affordability, and trust.
The Pureit innovation aims towards making safe drinking water accessible as well as affordable for millions of Indian People.
Hul Pureit offers the widest range of RO purifiers, RO+UV, and Non-electric water purifiers. They also launched a new range of RO+MF water purifiers in India.
Pureit's range of water purifiers starts from as low as Rs. 1,300 only.
How is HUL Customer Services?
Whether you want to replace the filter, membrane or any other replaceable component, or you are facing any issues with your HUL Pureit water purifier, you just have to make a call to Pureit customer care (numbers are below). They will send a technician to solve your purifier problems.
Pureit Customer Care Numbers India
Direct Call at Pureit National Helpline Number – 1860 210 1000 or 1860 180 1000
Write an email with your queries, feedback, etc – [email protected]
Click here to place a direct complaint about your Pureit RO.
Pureit has certainly filled the gap between the demand for quality drinking water and the exploitation of mineral water cans, which are prevalent everywhere. The price of the product is affordable and installation is easy.
Performance, durability, and better customer service makes HUL Pureit water purifiers a very good choice.
You may also want to check out water purifiers from other brands like the ones given below or you can also compare water purifiers here.