Blue Star Pristina UV Water Purifier
UV Fail/Change Alert
Filter Change Alert
Advanced UV purification with Stainless Steel UV Chamber
Purification Capacity of 2 Litres/Minute
Elegant Modern Design
Features of Blue Star Pristina UV Water Purifier
Blue Star Pristina is an affordable water purifier that offers 5 Stage Advanced UV purification. Blue Star Pristina is ideal for homes with Municipal Water supply with low TDS. This water purifier protects you and your family from all kinds of microbiological impurities like bacteria, viruses, protozoa and cysts.

Rs. 6,140

Rs. 8,900
×
Product prices and availability are accurate as of the date/time indicated and are subject to change. Any price and availability information displayed on Amazon.com (Amazon.in, Amazon.co.uk, Amazon.de, etc) at the time of purchase will apply to the purchase of this product.
19 new from Rs. 6,140

Advanced UV Protection
Blue Star Pristina offers Advanced UV protection from all disease causing microorganisms like protozoa, bacteria and viruses. The purifier also features an Ultra efficient UV purification chamber which is made of stainless steel for maximum safety, durability and optimum performance.
5 Stage Purification
The input water is purified using an advanced 5 stage purification process. The 5 different stages of purification comprise of a pre filter, sediment filter, carbon filter, micro trap filter, and UV Lamp. The water is purified at every stage to make sure that the water you drink is absolutely safe and pure.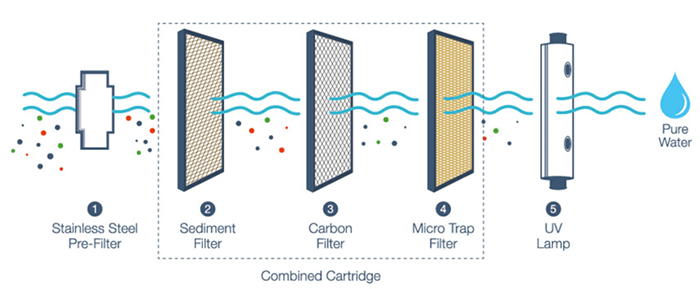 UV Change Indicator
UV change indicator gives you an advance indication that the UV lamp needs replacement within 100 hours of usage. This gives you sufficient time to change the UV lamp.
Maximum Flow Rate of 2 litres/min
Pristina offers a high flow rate of 2 litres/min. This is ideal for big families or corporate offices.
Elegant Modern Design
The looks and design of Blue Star Pristina is one of it's main USP. This machine is sure to lend an elegant modern look to your kitchen without taking much of the space.
In Built Voltage Stabilizer
Designed to work within a Voltage Range of 170 – 265 Volts, AC 50 Hz. So, if your area suffers from frequent voltage fluctuations, this would normally take care of most voltage fluctuations keeping your purifier safe from any possible damage.
UV Fail Alert
UV fail alert gives an indication that the UV lamp life is over and automatically stops the water flow so you never drink harmful water.
Filter Change Alert
Blue Star Pristina calculates the water that you dispense and informs you in advance when it is about time to replace the filter, giving you sufficient time to change of the filters.
UV Life Enhancer
The Microcontroller in Blue Star Pristina automatically shuts off the UV lamp when its not being used, thereby enhancing the life of the UV lamp. This not only enhances the life of the UV lamp but also saves a lot of electricity.
Counter Top or Wall Mount
Blue Star Pristina can be mounted on a wall or simply placed on a counter/table top.
Product Specifications
Model Name
Pristina
Storage Tank Capacity
0
Purifying Technology
UV
Filter Type
Stainless Steel Pre-Filter, Sediment Filter, Carbon Filter, Micro Trap Filter, UV Lamp
Filtration Capacity
2 Litres/Min
Electrical Type
Electrical
Installation Type
Table Top, Wall Mount
Width
24 cm
Height
35 cm
Depth
14.2 cm
Net weight
2.45 kgs
A perfect affordable UV water purifier by popular brand Blue Star.
Found this review for Blue Star Pristina UV Water Purifier useful? Please leave a comment below or share your love by connecting with us on Facebook.
Modern UV Purifier with Useful Features
Installation, Warranty & Service
7.5
PROS
UV Fail/Change Alert
Filter Change Alert
Advanced UV purification with Stainless Steel UV Chamber
Purification Capacity of 2 Litres/Minute
Elegant Modern Design
CONS
Not suitable for high TDS water
No storage of purified water