Clean and safe drinking water is the basic necessity and ensuring its availability is one of the prime responsibilities of concerned authorities. However, in countries like India, providing clean and safe drinking water to every household remains a big challenge for the Government organizations even today. Polluted and unsafe water is one of the most prominent reasons for common illnesses to life-threatening diseases like Cholera, Diarrhea and Hepatitis.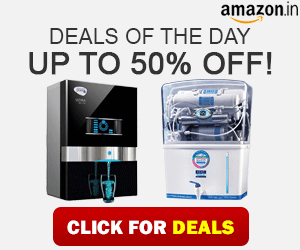 The best way to fight against water-borne diseases is to drink pure and safe water. Using a RO+UF water purifier is one way you can provide advanced protection to your family.
There are plenty of options, from all the leading water purifier brands, which provide water purification using RO+UF technology.
What is RO+UF Water Purifier?
A RO+UF water purifier employs both Reverse Osmosis and Ultrafiltration methods of purification. The RO technology is responsible for removing larger particles, dissolved solids and heavy metals from the inlet water; whereas the UF technology is used to eliminate much finer and minute impurities as well as disease-causing bacteria and viruses.
Top RO+UF Water Purifiers Price List India