"Tata Swach" is the brand name of water purifiers manufactured by Tata – one of the largest Indian companies.
Tata Swach water purifiers have been in the market since 2009.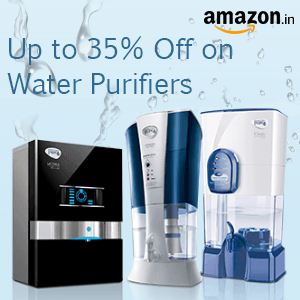 Just a year after its entry into the market, Tata Swach water filter won the Gold award prize in The Wall Street Journal's Asian Innovation Awards.
Here is the top Tata Swach water purifier price list updated on: March 21st, 2019
Tata Swach Water Purifier Price List
Show all

UV + UF

Gravity Based
Tata Swach Water Purifier Review
It employs a unique and advanced TSRF (Total Solar Resource Fraction) technology along with the Nanotech water purification mechanism. Various Other Tata ventures such as Tata Chemicals and Tata Consultancy Services (TCS) also came together and applied their ideas and technology in order to develop this low cost, low maintenance, and user-friendly water purifier.
Why Buy Tata Swach Water Purifiers?
The nano-silver particles are highly effective in killing bacteria and germs, while the rice husk ash contains activated silica and carbon. The activated silica reduces turbidity and activated carbon absorbs most of the toxic organic impurities. A simple replacement of the Tata Swach Bulb filter cartridge restores the full capacity of purifying 3000 liters of water.
Some Features of Tata Swach Water Purifiers
Available in models that run without electricity
Ability to removes 100 crore bacteria from 1-liter water
Filters out 1 crore viruses from 1lt of water
Auto shut-off mechanism
Long-life of the cartridge
Robust body and reliable
The capacity of 15 liters
3 stages purification process
Low-cost, low-maintenance, and user-friendly water purifier.
Customer Services
Tata Swach does not run on electricity, so it is affordable and customers are satisfied with its functioning. According to many customers' reviews, it is an economical way to ensure safe drinking water that uses Silver Nano-technology to effectively kill bacteria and viruses.
Tata Swach Customer Care Helpline Number
Toll-free Number India: 1800-2-585858
Email: [email protected]