Blue Star is one of India's largest air conditioning (AC) & commercial refrigeration company.
In 2014, Blue Star collaborated with Eureka Forbes to launch water coolers with in-built purification mechanism.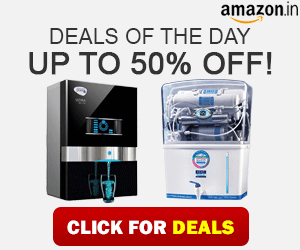 The highlight of these purifiers is they have an inbuilt Aquaguard UV purification and filtration process, which is counted as among the best.
You can find and compare the water purifier reviews, features, and prices in India.
Here is best-selling Blue Star water purifier price list updated on: April 23rd, 2019
Blue Start Water Purifier Price List
Why Choose Blue Star Water Purifiers
Blue Star has launched as many as 13 models and 11 out of them use a double layered RO+UV protection to ensure that the water is completely safe and pure.
These double layered water purifiers include Stella, Prisma, Edge, and Majesto with prices varying from Rs. 11,900 to Rs. 44,900.
The purification process of Blue Star water purifiers can be explained by following three steps:
Polypropylene filament that removes impurities
Activated carbon, which removes color, organic impurities as well as chlorine
UV disinfection chamber in order to kill and remove disease-causing bacteria and viruses
Unique Features of Blue Star Water Purifiers
Faster and powerful cooling as well as purification
Stainless steel body
Automatic power saving and PUF (physically uncloneable function) insulation
Easy controls
Sturdy compressor and convenient operation
Efficient output
Involves 3-stage purification mechanism
Includes a function called Electronic Eye that monitors the purification process and stops the flow of water using a solenoid valve
The purification process is carried out by Aquaguard
Blue Star Customer Services
Blue Star has employed an efficient team of service engineers and customer representatives for installation and maintenance purposes.
Bluestar has various call centers across the country with regional languages.
Blue Star's utility is evident by the fact that its purifiers are installed at various crucial places including schools, hospitals, and public spaces such as railway stations, airports, and petrol stations.
Blue Star Customer Care Helpline Number
Blue Star Toll-free Customer care number: 1800 209 1177 or 1860 266 6666
You can Directly write an e-mail to customer service at [email protected]
You can register your first-time complaint or call customer care.