Blue Star Edge 6 Litre RO + UV Water Purifier
Purification Capacity of up to 12 Litres/Hour
Touch Screen Controls and Display
Speech Assistance
1-litre/1-glass/Continuous Flow Dispensing Option
Day/Time Display
Filter Change Alerts
The innovatively designed water purifier that's so smart that it speaks for itself. Blue Star Edge changes the entire mindset of the conventional water purifier.
With 3 attractive colors White & Gold, White & Blue and Black & Silver, this innovatively designed water purifier will truly make your life easy and comfortable.
Features of Blue Star Edge 6 Litre RO + UV Water Purifier
Double Layered RO + UV Protection
Double layered RO + UV protection ensures that the water you drink is absolutely safe. While RO removes dissolved impurities, micro organisms, heavy metals and radioactive matter, UV deactivates micro organisms such as bacteria, viruses an cysts.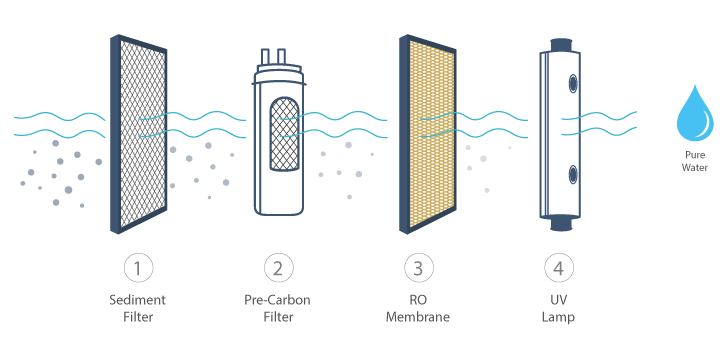 Purification Capacity of 285 Litres/Day
The super-efficient and high-quality RO membrane of Blue Star Edge offers purification capacity of up to 285 litres/day.
Touch Screen
Blue Star Edge features a smart and innovative touch screen that not only allows you to control the functions of the purifier with ease but also displays important information about the purifier like the water level in the tank and filter change status.
Super Fine Sediment Filter
1st stage of purification uses a super fine sediment filter of 5 microns which removes even the finest of sand, mud, dust and other suspended particles.
Speech Assist
Speech assist provides you voice alerts about when to replace filter, the water level status, alerts you to check your water inflow and gives you safety messages so you can be rest-assured about the quality of drinking water.
Mineral Management
Mineral management or TDS controller technology helps in retention of essential minerals in the purified water.
6 Litres Compact Tank
Blue Star Edge features a compact tank of 6 litres which not only saves the much needed kitchen space but is also sufficient for a small family.
Water Tank Multi Level Display
Water tank multi-level display to give you an update about the water storage level in the tank at all times.
Slim and Elegant
It's slim and elegant design is attractive and lends a sleek and stylised look to your kitchen.


Rs. 14,990

Rs. 21,900
×
Product prices and availability are accurate as of the date/time indicated and are subject to change. Any price and availability information displayed on Amazon.com (Amazon.in, Amazon.co.uk, Amazon.de, etc) at the time of purchase will apply to the purchase of this product.
5 new from Rs. 14,990

Rs. 21,500

Rs. 21,900
out of stock
Electronic Dispensing Button
Most RO purifiers available in the Indian market come with a manual tap for dispensing water, Blue Star Edge scores over all its competitors here as well as it offers an Electronic dispensing button which is easy and convenient to operate.
Filter Change Alerts
Filter change alerts which calculate the water that you dispense and informs you in advance when it is about time to replace the filter, enabling enough time to plan the change of the filters.
Day/Time Display
Day/Time display settings allow you to set a date and time, which is displayed on the touch screen at all times. If you are someone who needs to look at the clock every once a while then this purifier will end your dependence on the clock.
High Temperature Processed Carbon
High temperature processed carbon (most commonly known as activated carbon) acts as a polisher by removing any smell, odour and volatile organic compounds. It also increases the life of RO membrane by protecting it from chemicals such as chlorine.
1-litre/1-glass Smart Selection
1-litre/1-glass smart selection that gives you the convenience of dispensing 1 litre water or 1 glass of water with a single touch apart from the normal continuous water selection.
Product Specifications
Model Name
Stella
Storage Tank Capacity
6 L
Purifying Technology
RO + UV
Filter Type
Sediment Filter, Pre-Carbon Filter, RO Membrane, UV Lamp
Membrane Type
RO Membrane
Purification Capacity
285 Litre/Day
Storage Tank Material
ABS
Electrical Type
 Electrical & Storage
Operating Voltage
220 V
Installation Type
Wall Mount
Width
42 cm
Height
46 cm
Depth
16.5 cm
Net weight
11.25 kgs
The best RO+UV water purifier by Blue Star for a midium sized family.
Found this review for Blue Star Edge 6 Litre RO + UV Water Purifier useful? Please leave a comment below or share your love by connecting with us on Facebook.
One of the Best Top-End RO+UV Purifiers
Installation, Warranty & Service
7.5
PROS
Purification Capacity of up to 12 Litres/Hour
Touch Screen Controls and Display
Speech Assistance
1-litre/1-glass/Continuous Flow Dispensing Option
Day/Time Display
Filter Change Alerts
CONS
Water Dispensing Stops Without Electricity