Blue Star Stella 8.2 L RO + UV Water Purifier
Hot, Cold and Normal Water Dispensing
8.2 Litres Large Storage Tank
Purification Capacity of 10 Litres/Hour
Auto Clean Function
Electronic Dispensing Button
Child Lock Function
Touch Sensors
Anti Stagnant Ripple Technology
Separate Hot Water Faucet
Blue Star Stella is India's first RO+UV water purifier that dispenses Hot, Cold and Normal Room Temperature water. Stella is available in 2 color variants: White & Silver and Black & Silver.
It dispenses hot water as hot as 85°C so you can make soups, tea, and coffee. It also dispenses cold water as chilled as 5°C so you can make chilled mocktails and cocktails. No need to keep water bottles in the refrigerator anymore.
Blue Star Stella uses a 5 stage purification process consisting of Sediment Filter + Pre Carbon Filter + RO Membrane + Post Carbon Filter + UV Lamp.
Blue Star Stella is undoubtedly a great addition to your modern kitchen.

Rs. 31,990

Rs. 46,900
×
Product prices and availability are accurate as of the date/time indicated and are subject to change. Any price and availability information displayed on Amazon.com (Amazon.in, Amazon.co.uk, Amazon.de, etc) at the time of purchase will apply to the purchase of this product.
10 new from Rs. 31,885


Features of Blue Star Stella 8.2 Litre RO + UV Water Purifier
Hot, Cold and Normal Water
Another great feature of Blue Star Stella is the inbuilt feature to select whether you want to dispense hot, cold or normal room temperature water. This feature is very beneficial, in summers you can dispense cold water and drink/serve right away without the need of a refrigerator. If you prefer to drink lukewarm water in winters then you can dispense hot water without any need of boiling the purified water.
Super Fine Sediment Filter
1st stage of purification uses a super fine sediment filter of 5 microns which removes even the finest of sand, mud, dust and other suspended particles.
Double Layered RO + UV Protection
Double layered RO + UV protection ensures that the water you drink is absolutely safe. While RO removes dissolved impurities, micro organisms, heavy metals and radioactive matter, UV deactivates micro organisms such as bacteria, viruses, and cysts.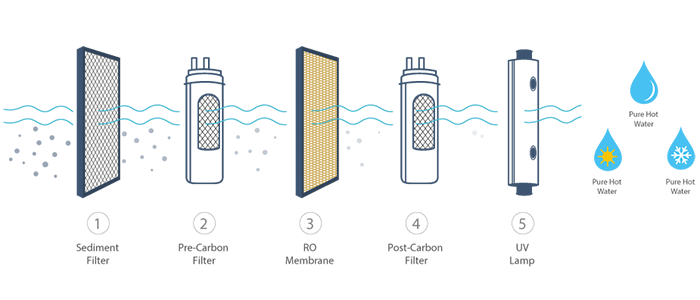 Ultra High TDS Removal
Worried about the high TDS in your input water. Worry no more, as Blue Star Stella offers TDS removal of up to 96%. This means that the purified water that you get in safe and pure even with high levels of dissolved impurities in the input water.
8.2 Litres Large Tank
Blue Star Stella features a large tank of 8.2 litres which comprises 4.6 litres of room temperature water, 3 litres of cold water and 0.6 litres of hot water.
Superior Water Recovery of up to 33%
Blue Star Stella also addresses the most common problem of using an RO water purifier that of wastage of water. With superior water recovery of up to 33%, Blue Star Stella minimizes water wastage and helps in the conservation of water.
Purification Capacity of 250 Litres/Day
The super-efficient and high-quality RO membrane of Blue Star Stella offers purification capacity of up to 250 litres/day. The high-quality RO membrane used in Blue Star Stella is also capable of an ultra high TDS removal of up to 96%. Despite high levels of dissolved impurities in the input water, the output water is pure.
Auto Clean Function
The auto clean function which ensures that stagnant water not used for 4 days is automatically drained and fresh water is filled. This feature makes sure that the water that you drink is never over 4 days old.
Taste Enhancer
Even purified water can sometimes taste awful and smell awkward. Taste Enhancer functionality of Blue Star Prisma ensures that every drop of water that you drink is refreshing and pure by removing odour and volatile organic compounds.
Electronic Dispensing Button
Most RO purifiers available in the Indian market come with a manual tap for dispensing water, Blue Star Prisma scores over all its competitors here as well as it offers an Electronic dispensing button which is easy and convenient to operate.
Child Lock Function
Child Lock function in the heating mode to make sure that hot water does not cause any accidental burns.
Touch Sensors
Touch sensors let you make a quick and easy selection between cold, hot and room temperature options.
Anti Stagnant Ripple Technology
One of the common problems, with most RO purifiers available in the market, is the formation of slime in the water tank if the purified water is left unused for long. Anti stagnant ripple technology, which is a patented technology, ensures that the water in the tank is not stagnant. This prevents the formation of slime and keeps the water fresh for long.
Separate Hot Water Faucet
Separate hot water faucet in order to provide safety while dispensing hot water in conjunction with the child lock function.
Product Specifications
Model Name
Stella
Storage Tank Capacity
8.2 L
Purifying Technology
RO + UV
Filter Type
Sediment Filter, Pre-Carbon Filter, RO Membrane, UV Lamp, Post-Carbon Filter
Membrane Type
RO Membrane
Storage Tank Material
ABS
Electrical Type
 Electrical & Storage
Operating Voltage
220 V
Installation Type
Table Top Mounting
Width
29 cm
Height
47.4 cm
Depth
49.7 cm
Net weight
19.3 kgs
Found this review for Blue Star Stella 8.2 Litre RO + UV Water Purifier useful? Please leave a comment below or share your love by connecting with us on Facebook.
Ultramodern Water Purifier for Your Modern Kitchen
Installation, Warranty & Service
7.5
PROS
Hot, Cold and Normal Water Dispensing
8.2 Litres Large Storage Tank
Purification Capacity of 10 Litres/Hour
Auto Clean Function
Electronic Dispensing Button
Child Lock Function
Touch Sensors
Anti Stagnant Ripple Technology
Separate Hot Water Faucet
CONS
No Water Dispensing without Electricity