We've talked about the best water purifiers before, including best RO water purifiers, best UV water purifiers, and best non-electric water purifiers, here we dive deep into the best alkaline water purifiers, filters, pitchers and bottles.
Since you are looking for an alkaline water purifier we believe you are aware of the concept of alkalinity, pH value and the health benefits of drinking alkaline water.
If you are not sure what we are talking about then please read our detailed information on alkaline water.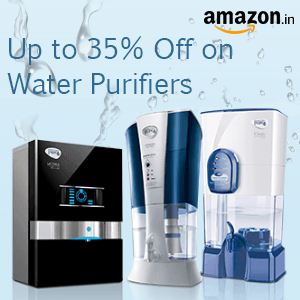 Why Alkaline Water?
Our body needs a delicate acid-alkaline balance. Unfortunately, most of the food that we eat, like meat, dairy, processed foods, and sugar, are rich in acidic substances. This creates an acidic atmosphere in our body and as a result of this our body tries to adjust for the acidity by borrowing from alkaline reserves like bones and teeth, which eventually results in chronic diseases like weaker bones, Arthritis, Hyper Acidity, Gastritis etc.

In order to keep a right acid-alkaline balance, we should feed our body with food & drinks that are alkaline in nature. And one the easiest ways to maintain this acid-alkaline balance is drinking alkaline water.

Alkaline water helps in maintaining the acid-alkaline balance without borrowing from valuable reserves, recharges immune system, balances our body, and delivers optimal hydration.
---
Before we start talking about which is the best alkaline water purifier for your home, you should be aware of the pH value of the water you are drinking right now.
You will need one of the solutions discussed below only if the pH value of the water is less than or equal to 7 or if you have been advised to drink alkaline water by a medical practitioner.
As per the BIS Standard IS-10500- 2012, Ministry of Drinking Water and Sanitation, Government of India, the acceptable limit of drinking water pH is 6.5 – 8.5.
More details on How to Test pH Value.
Let's begin then…
We've broken down the list of best alkaline water purifiers in two major categories:
1. Alkaline Water Purifiers for People Who Already Have an RO Water Purifier
2. Alkaline Water Purifiers for First Time Buyers
1. Alkaline Water Purifiers for People Who Already Have an RO Water Purifier
So let's first talk about the best options for people who already have an RO water purifier at home.
You already have access to purified water, what you need is a solution to make that purified water alkaline.
There are many DO IT YOURSELF ways to make alkaline water using commonly found items like baking soda, lemon, and pH drops. We've already discussed all this in great details, so to keep this post short and precise we'll not discuss that again here.
Instead, we'll focus on some easy to use products that turn your basic or acidic water into healthy alkaline water. What we've covered here is an easy to use water bottle, an add-on alkaline water filter for your RO purifier, and an alkaline water pitcher (jug).
Let's begin with our first pick…
1.1 Best Alkaline Water Bottle – Hi-Tech Alkaline Water Bottle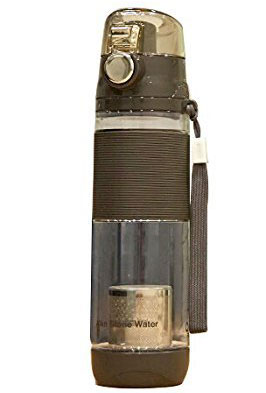 Hi-Tech Alkaline water bottle makes Anti-Oxidant Alkaline water on the go, just pour RO purified water in the bottle and your healthy alkaline water is ready in 2 minutes.
This bottle employs the renowned Korean Bio Ceramic Technology that uses Ceramic Balls to give you Anti-Oxidant Alkaline (pH 7.5-8.5) drinking water that is rich in essential nutrients like Calcium, Magnesium, Sodium, and Potassium while regulating the Oxygen content in the water.
This 500 ml bottle is easy to carry and highly durable and you can have your alkaline water on the go or while traveling. Made from food grade AS & ABS materials, this alkaline water bottle comes with a special silicon grip, protective lock and features an ergonomic design.
Useful link: Best Portable Water Purifier.
This is also an 'Amazon's Choice' product, highly-rated and well-priced.
Capacity: Up to 2000 litres.
---
1.2 Best Alkaline Water Filter for RO Purifiers without Mineralizer – Biocera Antioxidant Alkaline Filter for all Water Purifier

If you are using RO water purifier (without mineralizer) at your home and the purified water has pH value of 7 or lower then you can add an alkaline filter, like the Biocera Antioxidant Alkaline Filter, to increase the pH value.
This filter works on the same technology as the alkaline water bottle. This alkaline filter basically contains solid crystals of natural minerals. Essential minerals like Calcium, Magnesium, Sodium, and Potassium get added when water passes through this filter.
This filter increases the pH value, makes water alkaline and adds essential minerals.
You can add this alkaline filter to your existing RO purifiers. It should be added post purification, after UV or post carbon filter, just before the water is filled in the storage tank.
The size of this alkaline filter is same as the post-carbon filters, so it can easily fit in most RO purifiers.
It is easy to install, all you have to do is connect the output of the last filter of your RO water purifier to the input of this alkaline filter and output of this alkaline filter should be directed to the storage tank.
Capacity: Up to 12,000 litres.
---
1.3 Best Alkaline Water Pitcher – Kent Alkaline Water Filter Pitcher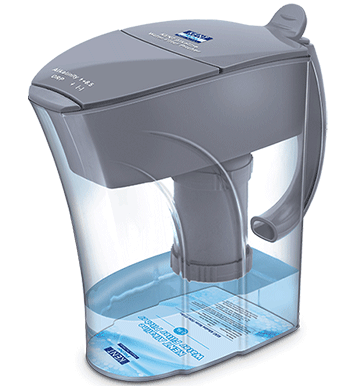 Kent Alkaline Water Filter Pitcher not only ensures the right pH levels (8.5 – 9.5) in water but also removes chemical and physical impurities, thus giving pure alkaline water with right pH levels for a healthy lifestyle.
It also decreases the Oxygen Reduction Potential (ORP) and makes antioxidant alkaline water, which tastes fresh and clean. It improves the anti-oxidation ability.
Kent Alkaline Water Filter Pitcher features Sediment filter and Carbon filter. Sediment filter removes physical impurities like dirt, dust, sand, and mud from the water and Carbon filter removes chemical impurities such as chlorine from water.
The slim and space-saving design lets you easily keep this in the door pocket of your refrigerator. Easy fit lid and comfort grip handle make it easy to use. This 3.5 litre pitcher uses non-breakable food grade plastic that makes it highly durable.
Capacity: Up to 1000 litres.
Follow this link to get in-depth reviews of other Kent purifiers.
---
2. Alkaline Water Purifiers for First Time Buyers
2.1 Any RO Water Purifier with Mineralizer Cartridge/Filter
If you are looking to buy a new water purifier for Alkaline water then RO water purifier with Mineralizer cartridge/filter is a good choice.
Many leading brands of water purifiers have now launched RO water purifiers which come with the mineralizer feature. Mineralizer feature is nothing but a mineralizer cartridge/filter like the alkaline filter discussed above.
The mineralizer filter adds back the essential minerals in the purified water which improves the pH value of the water and makes it alkaline.
Some of the best selling RO water purifiers with mineralizer are:
a) Livpure: Livpure Glo
b) Havells: Havells Pro, Havells Max, Havells DigiTouch and Havells DigiPlus
c) A.O Smith: AO Smith X8, AO Smith Z9, AO Smith Z6, AO Smith X7
d) Blue Star: Blue Star Aristo, Blue Star Majesto
e) LG: LG WW180EP, LG WW170EP and many more.
Most big brands of water purifiers do not market their RO purifiers as alkaline water purifiers and we do not understand why. There are a large number of people who are now looking for alkaline water purifiers because of increased awareness about health benefits of alkaline water.
---
2.2. Blue Mount Royal Plus RO + UV + UF + Alkaline Electric Water Purifier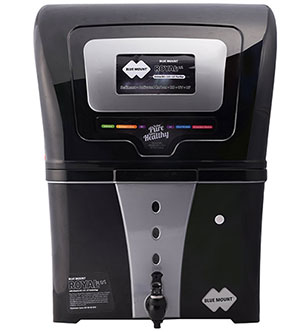 Blue Mount Royal Plus offers multi-stage purification using RO+UV+UF with the alkaline water filter. Water is purified in several stages by passing it from several filters which gradually remove different types of impurities.
This water purifier uses the following filters:
Sediment Filter, Activated Carbon Filter, RO Membrane, UV Light, UF Membrane, and Antioxidant Alkaline Filter.
An alkaline filter is used post purification, it modulates and maintains the pH level as well as essential minerals to make the water healthy.
Other features include storage capacity of 12 litres, purification capacity of up to 18 litres/hour, and purification of water with TDS up to 2000 ppm.
---
We believe drinking Alkaline water can be quite beneficial especially for people suffering from acidic disorders. However, you should always consult a trained medical practitioner if you suffer from acidic disorders and discuss how alkaline water can benefit you.
Hope this post provided you with valuable information. Share it with your friends and loved ones if you feel it can also benefit them.