Havells Pro RO+UV 8 Litres Water Purifier
100% Water Passes Through RO & UV
Mineralz cartridge corrects PH and adds natural minerals
Compact design with flexible mounting (corner mounting)
Advance Alert System
Zero Splash Faucet
Removable Tank
Havells Pro RO+UV Water Purifier features futuristic yet extremely simple design. This advanced 6 Stage RO+UV purifier, not only looks artistically brilliant but provides reliable purification.
Ranked among the best RO water purifiers in India, Havells Pro is the only water purifier that can be easily mounted on a table top, straight wall or corner. Havells Pro comes in a vibrant dual tone combination of white and deep blue.
Unlike other water purifiers which feature a tap for water dispensing, Havells Pro comes with a unique soft touch faucet design that ensures zero splash, zero contamination and smooth flow.
Features of Havells Pro RO+UV 8 Litres Water Purifier
Purification Technology: RO+UV Purification.
Purification Stages: 6 Stage Purification using Sediment Cartridge, Activated Carbon Cartridge, RO Membrane, Germicidal UV, Mineralz Cartridge, and Silver Impregnated Taste Enhancer.
Storage Capacity: Approx. 8 Litres
Purification Capacity: Up to 15 litres per hour
Installation: Can be installed on a straight wall, in corner or on table top.
Advance Alerts: Automatic alerts for self-diagnostic, purification process, tank full, low water pressure, and error alerts for UV, SV, and pump failure.
Voltage Fluctuation Protection: Works well in the voltage range of 170 V – 330 V. Automatically shuts off if the voltage exceeds or drops more than the working voltage range.
Other Features: Contamination proof tank cover, removable tank.
Warranty:1 year Warranty.

Rs. 11,990

Rs. 13,999
×
Product prices and availability are accurate as of the date/time indicated and are subject to change. Any price and availability information displayed on Amazon.com (Amazon.in, Amazon.co.uk, Amazon.de, etc) at the time of purchase will apply to the purchase of this product.
15 new from Rs. 11,699.00
Powerful 6 Stage Purification Process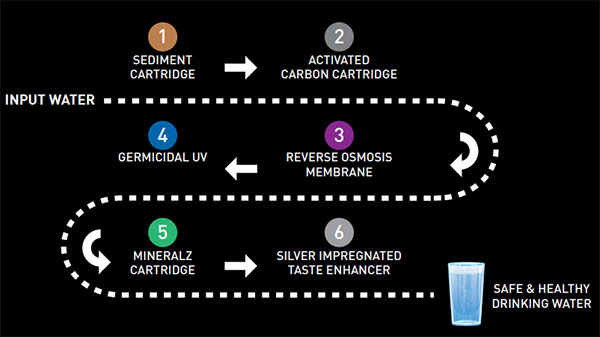 1. Sediment Cartridge: Removes coarse and fine suspended impurities such as sand, dust, silt, rust and clay etc. from the source water. Improves performance and enhances the life of Activated Carbon Cartridge and RO Membrane.
2. Activated Carbon Cartridge: Removes wide range of dissolved organic impurities such as pesticides, and herbicides. It also removes chlorine and bad odour.
3. RO Membrane: Removes dissolved impurities and harmful heavy metals like lead, arsenic, mercury, chromium, fluorides, and iron etc.
4. Germicidal UV: Germicidal UV C at optimum Wave length of 253.7nm irradiation, disinfects water and makes it free from microbiological impurities.
5. Mineralz Cartridge: Balances the pH level of purified water and re-mineralizes it by adding naturally occurring essential minerals and salts giving you healthier and tastier water.
6. Silver Impregnated Taste Enhancer: The last stage of purification removes organic residue and VOC (Volatile Organic Compounds) to improve the taste of water and adds a sparkling texture to it.
Futuristic Design
A simple look at Havells Pro speaks volumes about it's futuristic and one of a kind design that lets you mount it in a corner saving your limited kitchen space. The compact design and vibrant dual tone colour combination of white and deep blue combined with a transparent water tank is sure to add that modern feel to your kitchen's interiors.
Best-in-class Purification Technology
Many water purifier brands nowadays offer a feature known as TDS controller in their RO+UV water purifiers. But the truth is this TDS Controller technology might do more harm than good.
To balance the minerals removed by RO membrane some amount of water is made to pass through UF filtration only. What TDS Controller effectively does is it mixes the water from RO membrane and UF filter to maintain the level of minerals in the purified water.
But the biggest disadvantage of this technology is the limitation of UF filter, UF filter can't remove harmful chemicals like Lead, Arsenic Pesticides and Chromium.
What this essentially means is, if the incoming water contains any of these harmful impurities then TDS controller results in mixing of pure water from RO & impure water from UF which spoils the entire purification process.
Absolute safety through 100% RO and UV purification
Unlike the most RO+UV water purifiers available in the market, 100% water passes through RO & UV in Havells Pro to give you 100% pure and safe drinking water. Instead of TDS Controller, Havells Pro uses Mineralz Cartridge to add essential natural minerals and salts and to balance the pH level of purified water.
Convenience Features
Apart from the space saving design and innovative corner mount, the Havells Pro water purifier also features some other amazing features like iProtect auto water cut-off, alerts for self-diagnostic, purification process, tank full, low water pressure, and error alerts for UV, SV, and pump failure.
iProtect purification monitoring
The advanced iProtect constantly monitors the purification process, and automatically shuts off the water flow in case any internal failure is detected. This ensures that the water that you drink is always safe and pure.
Protection from Voltage Fluctuation
In a country like ours voltage fluctuation is one the prime reasons which damages the home & kitchen appliances. But Havells Pro water purifier features advanced electronics that ensure purifier performs well in the voltage range of 170 V – 330 V. This is not all, the intelligent design automatically trips the power if the voltage exceeds 330 V or if it drops below 170 V. What this means is 100% protection from any electrical damage.
Ingress protection tank cover
The thoughtfully designed ingress protection tank cover keeps the purified water in tank safe from contamination by insects and dust particles.
Removable tank
This is among the many USPs of this amazing piece of design, the water tank is designed in such a way that it can easily be removed for cleaning at regular intervals.
Smart User Interface
The smart interface of Havells Pro RO+UV provides you various options for:
Self Diagnostic Mode: When power is switched on machine purifies water stagnant in UV column.
Error Indications: gives indications if any critical component malfunctions
Purification Process Indicator: Glows when purification process is on
Tank Full Indicator: Glows when tank is full.
Price history for Havells Pro RO UV Min. 8 Ltr. RO Water Purifier

Latest updates:

Rs. 11,990 - April 24, 2018
Rs. 12,290 - April 22, 2018
Rs. 11,789 - April 14, 2018
Rs. 11,790 - April 12, 2018
Rs. 11,699 - April 10, 2018
Rs. 11,890 - March 29, 2018

Since: March 29, 2018

Highest Price: Rs. 12,290 - April 22, 2018
Lowest Price: Rs. 11,699 - April 10, 2018
Didn't find the right price? Set price alert below
Set Alert for Product: Havells Pro RO UV Min. 8 Ltr. RO Water Purifier - Rs. 11,990
Device Specifications
Model Name
Pro
Total Capacity
8 litres
Purifying Technology
RO & UV Technology
Purifying stages
6 STAGES (RO+UV)
Material of construction
Food safe
Flow rate*
Up to 15 litres per hour
Power rating (max)
36 W
Pressure rating
06-30 PSI
UV Lamp Power rating
4 W
Input voltage range
230 V, 50 HZ
Net weight
Approx. 8 KG
Width
38.2 cm
Height
49 cm
Depth
27.3 cm
Found this review for Havells Pro RO+UV Water Purifier useful? Please leave a comment below or share your love by connecting with us on Facebook.
One of a Kind Innovative Features with Quality Purification
Installation, Warranty & Service
8
PROS
100% Water Passes Through RO & UV
Mineralz cartridge corrects PH and adds natural minerals
Compact design with flexible mounting (corner mounting)
Advance Alert System
Zero Splash Faucet
Removable Tank