Kent Grand Plus 8-Litre Mineral RO + UV/UF with TDS Controller Water Purifier
Good Storage Capacity
Less Water Wastage
TDS Controller Adds Essential Minerals Post purification
Suitable for Water from all Sources
Review of Kent Grand Plus
Kent Grand Plus is fully automatic and a feature-packed water purifier from Kent RO. It employs an extensive RO+UV+UF purification mechanism with TDS control, which ensures that your family is getting the safest drinking water all the time. Its high-end features, effective performance, and 4 years of free service are a great value for your money.
Kent Grand Plus employs the double treatment of RO and UV purification, which naturally makes it one of the most sought-after purifiers in India.
Top Features of Kent Grand Plus RO Water Purifier
Purification Technology: RO+UF+UV+TDS Controller. Double purification of RO/UF+UV removes harmful bacteria and dissolved impurities, making water 100% pure
Storage Capacity: 8 litres
Applications: Suitable for purifying brackish / tap water and municipal corporation water
Purification Capacity: Up to 20 litres per hour
Save Water Technology: Recovers more than 50% water as purified water and stores the rejected water in a separate tank for reuse of RO waste water
Alert Mechanism: Computer controlled operation with Filter Change and UV Fail alarms
UV Lamp: 11 Watt UV lamp for deactivating harmful bacteria and microorganisms
Filter Cartridges: Sediment, Carbon block filter, UF, and Post-carbon
Material: ABS Food Grade Plastic
Automatic: Fully automatic with auto-on and auto-off function
Mounting: Wall mounted
TDS Control Valve: It allows the user to control the content of natural minerals in the purified water
Extra Accessories: Push-fit components for leak-proof performance, User manual, Warranty card and Service center details
Indication: Purified water level indicator
Power Supply: Operates on electricity with built-in SMPS for frequent power fluctuations
Certifications: WQA (USA & India), NSF (USA) and ISI (India)
Installation: Free of cost at customer's premises
Warranty: 1-year warranty + 3 years free service
Kent Grand Plus Price

Rs. 15,250

Rs. 19,000
×
Product prices and availability are accurate as of the date/time indicated and are subject to change. Any price and availability information displayed on Amazon.com (Amazon.in, Amazon.co.uk, Amazon.de, etc) at the time of purchase will apply to the purchase of this product.
56 new from Rs. 15,250

Filtration Process of Kent Grand Plus RO + UV/UF+TDS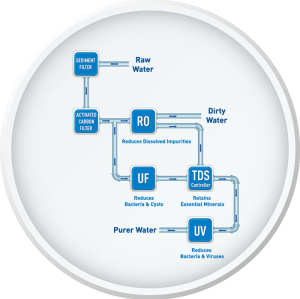 The Kent Grand Plus purifies water in 7 advanced stages:
Stage 1 – Sediment Filter
The sediment filter is used in the first stage of purification where input water is allowed to pass through it. This process of filtration effectively filters out all the impurities, dirt, particulate matter and suspended solids.
Stage 2 – Activated Carbon Filter
The water thus filtered from sediment filter is then fed into the activated carbon filter. This stage is very crucial in filtering out chlorine, organic compounds, bad odor as well as unpleasant taste from the water. Carbon is highly capable of blocking all the unwanted impurities and the water received at the end of this process is much purer.
Stage 3 – RO Filtration
This is the most crucial stage of purification in which a semi-permeable membrane is used. The RO filtration removes all the dissolved organic salts and other harmful contaminants. The reverse osmosis process of filtration requires an optimum pressure close to 30-40 psi to be applied to the water. It makes water molecules pass through the membrane while leaving behind the suspended impurities. In addition to the dissolved salts, RO filtration removes heavy metals like lead, pesticides, nitrates, and sulfates.
Stage 4 – Ultrafiltration
This is the fourth stage of purification in which water from the previous stage is allowed to pass through ultra-filtration. The UF membrane acts as a powerful line of defense in which macromolecules are trapped and removed. Sometimes much smaller and invisible impurities remain in the water. Even these impurities are filtered out due to the extremely small pore size of the UF membrane, which is 0.01 micron. This technology uses fine threads of fibers and also removes extra-hardness from the water.
Stage 5 – TDS Controller
This stage of filtration employs a TDS controller that helps in controlling total dissolved solids in the water coming out of the Kent RO membrane. The RO process along with reducing the hardness of the water also removes essential natural minerals. Thus, the TDS controller makes sure that these minerals are retained in the water. The output water from the TDS controller is safer, healthier, purer and enriched with minerals.
Stage 6 – Ultraviolet Filtration
It is the next step of filtration in which UV technology is utilized which effectively kills bacteria, viruses, and disease-causing germs. The UV filtration uses an 11 watt UV lamp from which ultraviolet radiations are spread in the water. It deactivates all the microorganisms to make water safe and free from germs.
Stage 7 – Post Carbon Filter
It is added to bring up the flavor of the water and enhance the taste as well.
How Kent Grand Plus Water Purifier Works?
Know how your Kent Grand Plus water purifier filters water and gives you safest water to drink.
Review of Other Features of Kent Grand+ Water Purifier
Elegant Design
The attractive design and the transparent cover of Kent Grand Plus look great at any place in your home. Its convenient usage makes it a perfect machine for any kitchen, restaurant, or hostel. You can see all the components functioning inside the upper cabinet, while the water level indicator of the storage tank allows you to know the level of water inside.
TDS Controller
The TDS control valve serves a very significant function which results in the reduction of TDS levels up to 90 percent. This feature is not available in any other water purifiers. This function also makes sure that natural minerals in the purified water are intact. TDS control ensures healthier and better-tasting water.
Global Certifications
Kent Grand Plus is tested and certified by distinguished laboratories and important quality centers around the country. It has won NSF and WQA Gold Seal in the United States. Therefore, this fact reflects that this water purifier is extremely reliable. It is also CE and RoHS certified.
Leak Proof Design
Kent uses high-end design technology which makes leak-proof and its push-fit components take care of leakage and wastage of water. These fittings come with rubber O rings that are built in to provide additional protection against leakages. It is made of ABS plastic and its food grade quality makes it safe, durable and highly reliable.
Save Water Technology
In conventional RO Technology, about 80% of water gets wasted and only 20% of water is recovered as purified water. This means you needed 10 Litres of input water for every 2 litres of purified water. KENT Grand Plus employs Save Water Technology which recovers more than 50% water as purified water. And the best part is, unlike other RO purifiers, the rejected water is stored in a separate tank. And that waste water can be utilized for other home tasks like gardening, mopping, washing, etc. Thus Kent Grand+ resulting in less to no water wastage.
Kent Grand Plus Specifications
Model Name
Grand Plus
Storage Capacity
8 L
Purifying Technology
RO+UV+UF
Filtration Capacity
20 L/Hr
Filter Cartridges
Sediment, Carbon Block Filter, UF & Post Carbon
Maximum Duty Cycle
100 Litres/Day
Power Consumption
60 Watt
Membrane Type
Thin Film Composite RO
Booster Pump Voltage
24 V DC
Inlet Water Pressure/Temp (min)
0.3 Kg/cm2 or 4.3psi / 10°C
Inlet Water Pressure/Temp (max)
3 Kg/cm2 or 42.7psi / 35°C
Membrane Housing
Spin-welded RO membrane housing
Width
25.5 cm
Height
53.5 cm
Length
39 cm
Weight
9.4 kg
Found this review for Kent Grand Plus Water Purifier useful?
Please leave a comment below or share your love by connecting with us on Facebook. And, check top offers on water purifier from Amazon and Flipkart and save money on your water purifier.
Top Selling RO Water Purifier
Best RO water purifier for a mid-sized family.
Installation, Warranty & Service
8.5
PROS
Good Storage Capacity
Less Water Wastage
TDS Controller Adds Essential Minerals Post purification
Suitable for Water from all Sources