Tata Swach Non Electric Smart 15-Litre Gravity Based Water Purifier
Silver Nanotechnology
Does not use chlorine, bromine or iodine
Easy to use, clean and assemble
No electricity and running water required
The revolutionary Tata Swach Smart Silver Nanotech water purifier ensures that your family is protected from water-borne diseases like Diarrhoea, Cholera, Typhoid, and Dysentery. The best part is this water purifier does not require any electricity or running water.
Tata Swach Smart is an easy-to-use gravity-based water purifier from Tata Swach. Its silver nanotechnology effectively removes harmful disease causing bacteria and viruses as per USEPA guidelines.
Features of Tata Swach Smart 15 L Gravity Based Water Purifier
Sturdy design and translucent body
Removes 100 crore bacteria and 1 crore viruses from 1 litre water
Easy to clean, easy to use and easy to assemble
Long life of the cartridge: can purify up to 1500 litres
Auto-shut off mechanism
No electricity and no running water required
Total capacity: 15 litres, Purified Water Storage capacity: 7.5 litres
Purification capacity: 1500 litres
Warranty: 6 months


Rs. 1,349

Rs. 2,200
×
Product prices and availability are accurate as of the date/time indicated and are subject to change. Any price and availability information displayed on Amazon.com (Amazon.in, Amazon.co.uk, Amazon.de, etc) at the time of purchase will apply to the purchase of this product.
out of stock
Design
Tata Swach Smart gravity-based water purifier comes with a sturdy design and translucent body that gives your kitchen a modern look. Very easy to use, assemble and clean.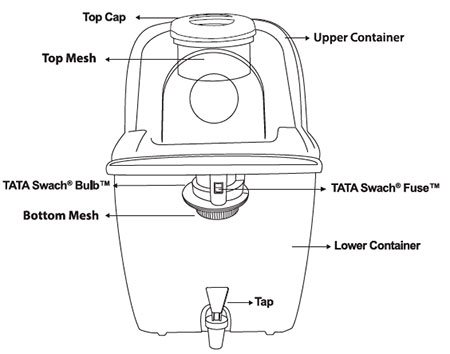 Performance
Internationally acclaimed for its superior performance, Tata Swach Smart water purifier removes 100 crore bacteria and 1 crore viruses from 1-litre water. Tata Swach Smart does not use any chlorine, bromine or iodine to purify the water. This non-electric water purifier does not require any running water or electricity.
Storage Capacity
Both the upper and lower storage containers have a maximum capacity of 7.5 litres each.
Purification Capacity
The Tata Swach Bulb has a capacity to purify up to 1500 litres of drinking water. However, the actual purification capacity will depend on input water quality. Water from municipality supply or wells or bore wells gives the best results.
Tata Swach Silver Nanotech Water Purifier purifies up to 4 to 5 litres of drinking water per hour. However, the rate could be lesser or higher depending on the quality of the input water.
Does it purify Brackish/Salty Water?
Tata Swach Silver Nanotech Water Purifier can remove harmful bacteria and viruses from water. But it does not remove dissolved solids or brackishness/saltiness from the water. If the input water is brackish then the output water would be microbiologically safe, but the taste will remain the same as input water.
Product Specifications
Model Name
Smart
Total Capacity
15 L
Purifying Technology
Gravity Based
Filter Life
1500 L
Auto Shut Off
Yes
Purification Capacity
1500 L
Electrical Type
Non – Electrical and Storage
Other Features
Easy to Clean: Easy to Essemble, No Chlorine, No Bromine, No Iodine Used, No Running Water Required, No Electricity Required
Other Convenience Features
Removes 100 Crore Bacteria and 1 Crore Viruses from 1 L Water, Lock helps Tata Swach Bulb Easy-to-fit, One-Step Process, Long Life of the Cartridge: 1500 L, Micro-mesh Systems that Removes the Minutest Visible Impurities and Makes Water Clean and Clear
Width
24 cm
Height
32 cm
Depth
31 cm
Weight
1.7 Kg
Found this review for Tata Swach Smart Water Purifier useful? Please leave a comment below or share your love by connecting with us on Facebook.
One of The Best Gravity Based Water Purifiers
Installation, Warranty & Service
8
PROS
Silver Nanotechnology
Does not use chlorine, bromine or iodine
Easy to use, clean and assemble
No electricity and running water required
CONS
Not suited for high TDS water