HUL Pureit Advanced RO+UV 5 Litre Water Purifier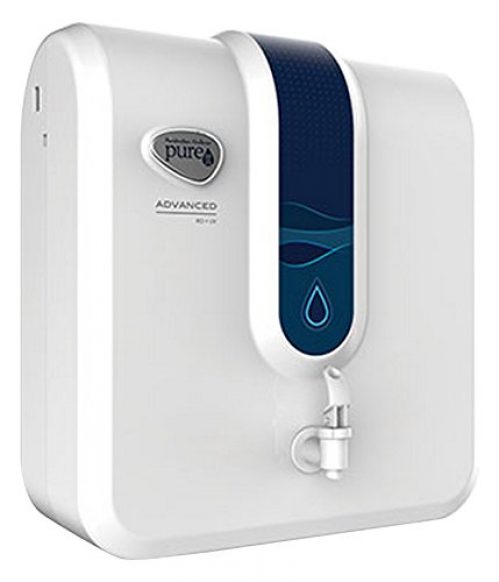 6 stage advanced purification technology
Advanced voltage function guard
TDS Removal up to 1800 PPM
Break-Resistance Tap
Features of Pureit Advanced RO+UV 5-Litre Water Purifier
Purification Technology: 6 Stage Purification using RO+UV Technology
Storage Capacity: 5 liters purified water storage tank gives you purified water even when there is no electricity
Material of construction: Food safe, non-toxic, engineering grade plastic
Purification Stages: 1. Pre-Sediment Filter, 2. Pre-RO Carbon Filter, 3. Post-Carbon Sediment Filter, 4. Reverse Osmosis Membrane, 5. UV Chamber, 6. Post-RO Carbon Filter
Recommended For: Suitable for Ground Water, Municipal Tap Water, Water Tanker, Pond/ river water.
Total Dissolved Solids (TDS) Levels: With TDS removal up to 1800ppm, this water purifier turns hard water up to 1800ppm into soft and pure water.
Purification Capacity: 9 -12 Liters/hour
Advanced Voltage Fluctuation Guard: Protects the purifier from voltage fluctuations ranging from 165 – 280 V.
Break Resistant Tap: Pureit Advanced RO+UV comes with a break-resistant tap tested for up to 50,000 times.
Warranty: 1 Year Manufacturer Warranty

Rs. 8,699

Rs. 11,200
×
Product prices and availability are accurate as of the date/time indicated and are subject to change. Any price and availability information displayed on Amazon.com (Amazon.in, Amazon.co.uk, Amazon.de, etc) at the time of purchase will apply to the purchase of this product.
5 new from Rs. 8,699

HUL Pureit Advanced Purification Process

Device Specifications
Model Name
ADVANCED RO+ UV
Total Capacity
5 litres
Purifying Technology
RO+UV
6 Stage purifying technology
PP Melt Blown Pre-sediment Filter, Pre – RO Carbon Filter, Post-carbon Sediment Filter, Reverse Osmosis Membrane, UV Chamber, Post – RO Carbon Filter
Material of construction
Non-toxic, engineering grade plastics, and Food safe
Purified water flow rate[Average]*
Approximately 9-12 litre per hour
Membrane Type
Thin film composite spiral wound
% Recovery
Typically 20 – 25%
TDS Reduction
90% (min)
Total Hardness
600 mg/lit (max)
Iron
0.3 mg/lit (max)
Turbidity
1 NTU (max)
Total Dissolved Solids
Up to 1800 mg/lit
Input Voltage
165 – 240 V AC, 50 Hz
Power Consumption
55 Watts
Pump Type
Diaphragm pump, 24V DC
Pressure Rating
5-30 PSI
Dimensions (Height X Width X Depth)
42.2 X 38 X 16.5 cm
Length of Power Cord
1.5 metres
Weight
5.8 kgs
Found this review for HUL Pureit Advanced 5L Water Purifier useful? Please leave a comment below or share your love by connecting with us on Facebook.
Affordable Price, Reliable Purification and HUL Pureit's Quality
Installation, Warranty & Service
8
PROS
6 stage advanced purification technology
Advanced voltage function guard
TDS Removal up to 1800 PPM
Break-Resistance Tap
CONS
No Alert for Filter Change
No Display