Prestige Copper Tattva 2.0 Water Purifier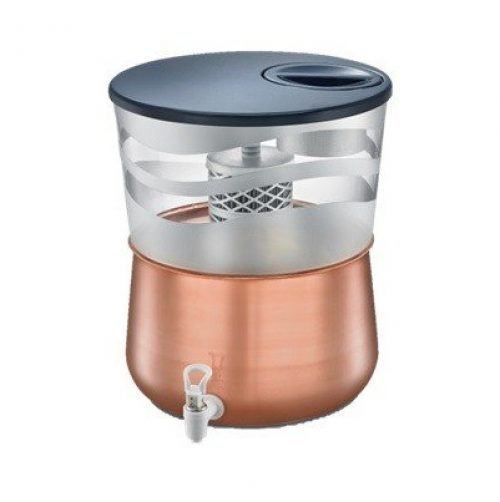 Copper Water Tank
Looks attractive
Health Benefits of Copper Water
Prestige Copper Tattva 2.0 Water Purifier Review
Prestige Copper Tattva 2.0 water purifier combines the unique advantage of modern technology with Indian traditional health science to give you water that is not only clean but also healthy.
We have all heard about the health benefits of drinking water from a copper vessel. Prestige has used the same age old tradition and provided a copper storage tank in Prestige Copper Tattva 2.0.
No other Gravity Based water purifier in India comes with a Copper Water tank which makes Prestige Copper Tattva 2.0 a unique product.
Features of Prestige Copper Tattva 2.0 Water Purifier
High Filtration capacity of 9 Litres/hour
Easy to clean, requires little or no maintenance
Retains all essential minerals in the filtered water
Total storage capacity of 16 Litres
Total filtration capacity of 1500 Litres
Copper water tank offers several health benefits
No chemical is used during filtration
Meets the water filtration norms of USEPA (US Environmental Protection Agency 1987) for Testing Microbiological Water Purifiers. Removes minimum 99.9999% of bacteria, 99.99% of viruses, and 99.9% of protozoan parasites, cysts.

Rs. 2,944

Rs. 4,495
×
Product prices and availability are accurate as of the date/time indicated and are subject to change. Any price and availability information displayed on Amazon.com (Amazon.in, Amazon.co.uk, Amazon.de, etc) at the time of purchase will apply to the purchase of this product.
28 new from Rs. 2,944
Filtration
Prestige Copper Tattva 2.0 uses all natural advanced FACT (Fibrillated Absorbent Cellulose Technology) filter made using various absorbents immobilized by fibrillated fibers. The FACT filters purify the water in 3 stages by removing up to 99.99% of harmful bacteria, protozoa and cysts from the water to make it safe and clean.
Health Benefits
Prestige Copper Tattva 2.0 meets and exceeds the stringent standards of US Environmental Protection Agency for Testing Microbiological Water Purifiers. This Prestige water purifier removes up to 99.99% of bacteria, viruses, protozoan parasites, and cysts to keep you safe from harmful waterborne diseases.
High Filtration Capacity
Prestige Copper Tattva 2.0 offers you a high filtration capacity of 9 litres/hour to provide more than required water for your complete family.
Device Specifications
Model Name
Prestige Copper Tattva 2.0
Storage Capacity
Total Capacity: 16 Litres
Filter Replacement Cycle
1500 Litres
Purification Capacity
9 Litres/hour
Purifying Technology
Gravity Based
Material Of Construction
Food Grade Plastic and Copper
Filters & Cartridges
FACT Filter
Purifier Type
Non-Electrical
Installation
Table/Counter Top
Warranty
1 Year
Found this review for Prestige Copper Tattva 2.0 Water Purifier useful? Please leave a comment below or share your love by connecting with us on Facebook.
Health Benefits of Copper Water Tank and Attractive Design
Installation, Warranty & Service
8
PROS
Copper Water Tank
Looks attractive
Health Benefits of Copper Water
CONS
Not suitable for water with High Level of impurities