Okaya Power Group (OPG) is a Japanese conglomerate that is widely known for its innovative approach.
It is a relatively new entrant in India's water purification segment under the brand name "Nasaka Water Purifiers".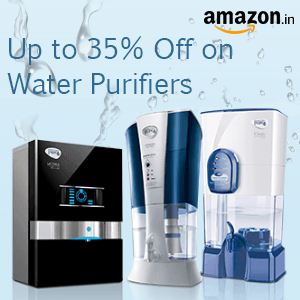 Nasaka's primary focus is to purify water and to add necessary minerals in a right quantity so that these minerals could not be lost as a result of the purification process.
The company utilizes an innovative OrpH+ Technology for providing 100% pure water while maintaining ORP (Oxidation-Reduction Potential) and pH levels at the same time.
Here is the best-selling Nasaka Water Purifier price list updated on: March 21st, 2019
Nasaka Water Purifier Price List
Show all

Ro + UV

RO + UV + UF
Why Choose Nasaka Water Purifier?
Nasaka has launched a long range of water purifiers – Nasaka 24×7 RO Water Purifier, Nasaka Spring RO Water Purifier, Nasaka Stage 9 Minjet RO Water Purifier, Nasaka Natura (RO UV Minjet) Water Purifier, Nasaka Stage 11 (RO UF Minjet) Water Purifier and Nasaka Stage 12 Minjet Plus (RO UV UF Minjet) Purifier.
Unique Features of Nasaka Water Purifiers
Wall-mount or countertop models
Compact and aesthetic designs
Transparent tank and glass holding tray
Food Grade (FDA Compliant) ABS used for housing
100% water passes through RO membrane
Automatic water level sensor for ON/OFF
Can filter Water up to TDS level 2000 like tap water, bore well water or storage tank water
Nano-silver technology to kill bacteria and disease-causing germs
Customer Services
From the beginning, Okaya has focused on high customer satisfaction. Okaya Power Group (OPG) has established a Research and Development Centre that is run by qualified scientists and water technology experts. These people are continuously putting their efforts towards finding new technology and implement it for customers' benefit.
The company is now present across India, has 400 service engineers who work 24/7 basis for providing a valuable customer support. Nasaka water purifier prices range from Rs. 10,000 up to Rs. 20,000 and are available in all leading outlets, across the country.
Nasaka Customer Care Helpline Number
Toll-free Number India: 1800 102 8808
For Service Registration: 93-13-14-14-14
Email: [email protected]