Moonbow Achelous RO+UV+UF Water Purifier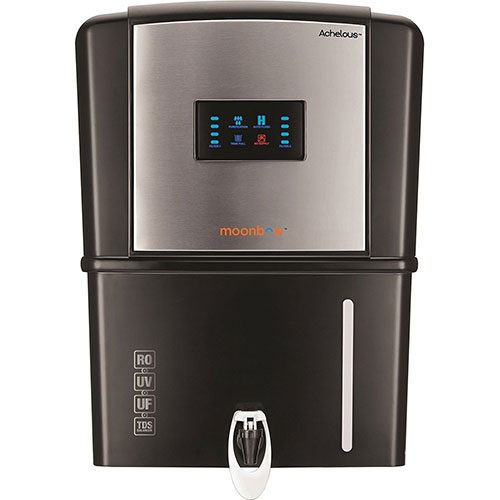 Large LED Display
6 Stage Purification with TDS Balancer
Filter Life Indicator
Auto Flush
Attractive Design
9 Litres Storage and Purification Capacity of up to 15 Litres/hour
Moonbow Achelous 9-Litre RO+UV+UF Water Purifier Review
Moonbow Achelous RO+UV+UF water purifier offers you the extra advantage of mineral fortification with TDS balancer. This RO water purifier from Moonbow not only purifies water but also makes sure the purified water has the essential minerals for great taste and better health.
Designed in strikingly attractive colour combination of black and silver with a sufficiently large LED display, Moonbow Achelous is sure to compliment the look of your modular kitchen.
The 6 stage purification with RO, UV and UF along with Mineral Fortification using TDS balancer makes it a water purifier worth considering. Storage tank of 9 litres provides sufficient drinking water for a large family even during long power cuts.
Auto Flush is also a very useful feature that automatically cleans the RO membrane after every 30 minutes of purification cycle. Auto Flush feature increases the life of RO Membrane and reduces the maintenance cost.

Rs. 11,090

Rs. 16,990
×
Product prices and availability are accurate as of the date/time indicated and are subject to change. Any price and availability information displayed on Amazon.com (Amazon.in, Amazon.co.uk, Amazon.de, etc) at the time of purchase will apply to the purchase of this product.
16 new from Rs. 11,090

Features of Moonbow Achelous RO+UV+UF Water Purifier
Attractive colour and design.
6 Stage RO+UV+UF purification with TDS Balancer that adds essential minerals in water.
High end RO Membrane suitable for water with TDS up to 2000 ppm.
Auto Flush cleans RO membrane after every 30 minutes of purification cycle for long life of RO Membrane.
Smart user-friendly display with information about Purification Process, Tank Full, Auto Flush and Filter Life indicators.
Storage capacity of 9 Litres.
Purification capacity of up to 15 litres/hour.
Table top/wall mount installation.
1 Year Manufacturers Warranty on Electrical Parts and 6 Months Warranty on Filters.
Device Specifications
Model Name
Achelous RO+UV+UF with TDS Balancer
Storage Tank Capacity
9 Litres
Purification Capacity
Up to 15 Litres/hour
Purifying Technology
6 Stage RO+UV+UF
Filter Type
Sediment Filter, Pre Carbon Filter, RO Membrane, UF Filter, Post Carbon Filter, UV and TDS Balancer
Membrane Type
Thin Film Composite RO Membrane
Material of construction for plastic parts
Food safe, non-toxic, engineering grade parts plastics
Total Dissolved Solids (TDS)
Up to 2000 ppm
Indicators
Power On/Off, Tank Full, Auto Flush, Filter Life
Installation Type
Wall and Table Top Mounting
Width
20.5 cm
Height
52 cm
Depth
39.5 cm
Found this review for Moonbow Achelous RO+UV+UF Water Purifier useful? Please leave a comment below or share your love by connecting with us on Facebook.
Attractive Design, Competitive Price
Installation, Warranty & Service
7.5
PROS
Large LED Display
6 Stage Purification with TDS Balancer
Filter Life Indicator
Auto Flush
Attractive Design
9 Litres Storage and Purification Capacity of up to 15 Litres/hour