Livpure Glo Touch RO+UV+UF+Taste Enhancer Water Purifier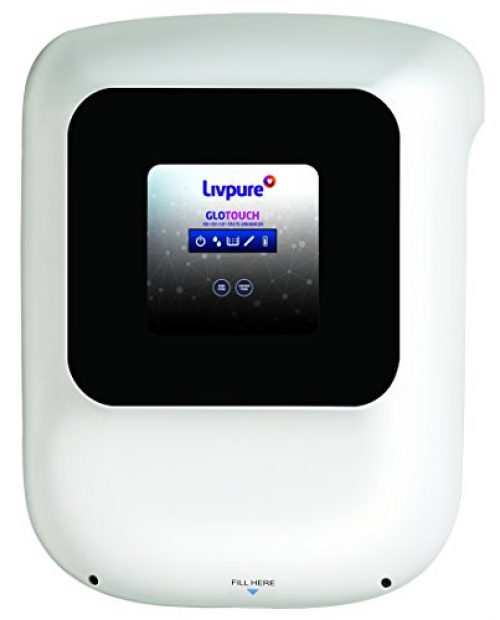 RO+UV+UF Purification with Taste Enhancer
Clean, Compact Design with Touch Interface
Multiple dispensing options
Attractive price
Livpure Glo Touch Review
Livpure Glo Touch RO+UV+UF+Taste Enhancer is another amazing RO water purifier from Livpure.
The Livpure Glo Touch water purifier is a high-performance purifier that features advanced features with reliable 6 stage water purification.
Available exclusively on Amazon.in, Livpure Glo Touch is being sold at a highly attractive price.
Top Features of Livpure Glo Touch Water Purifier
Purification Technology: RO+UV+UF with Taste Enhancer
Purification Stages: 6 stage purification with Sediment Filter, PA Filter, Pre-Activated Carbon Filter, RO Membrane, UV Disinfection Column, Ultra-filtration Cartridge.
India's first intelligent RO water purifier with touch technology.
Clean and compact design with a touch interface.
Filter change indication system.
Taste Enhancer improves the essential minerals, which enhances the taste and quality of water.
The purified water storage capacity of 8.5 litres.
Purification capacity of up to 15 litres/hour.
Multi dispensing options with no wastage of water, continuous free flow, and custom flow.
Removes turbidity, chlorine, inorganic impurities like calcium, magnesium, and a wide range of organic impurities like pesticides, THMs (Trihalomethanes) etc.
Warranty: 1 Year Manufacturer Warranty.

Rs. 12,299

Rs. 19,999
×
Product prices and availability are accurate as of the date/time indicated and are subject to change. Any price and availability information displayed on Amazon.com (Amazon.in, Amazon.co.uk, Amazon.de, etc) at the time of purchase will apply to the purchase of this product.
13 new from Rs. 12,299
6 Stage Purification Process of Livpure Glo Touch
Livpure Glo Touch uses an advanced 6 stage purification process to give you water that is not only 100% pure but also tastes great.
1. Sediment Filter: Sediment Filter removes coarse and fine suspended impurities from water and makes water clear.
2. PA Filter: It enhances the performance of the entire purification system and thus ensures good quality of water consistently.
Useful Link
Check out
Livpure Glo
, if you are looking for an affordable yet highly reliable water purifier.
3. Pre Activated Carbon Filter: It absorbs residual chlorine and harmful impurities like pesticides, herbicides, THMs etc from the water. It also absorbs bad taste, colour and odour causing organic compounds and improves the taste of water.
4. RO Membrane: RO Membrane removes bacteria, viruses, protozoa and parasites and reduces dissolved salts and hardness. It also removes pesticides and heavy metals from water.
5. UV Disinfection Column: Ultraviolet radiation disinfects the water from bacteria, viruses and protozoa thereby making the water microbiologically safe to drink.
6. Ultra Filtration (UF) Cartridge: Effectively removes bacteria, cysts from water. It also makes water sparkling clear by removing super fine suspended impurities.
Please visit the following link if you would like to check out any other water purifier from Livpure: https://www.bestrowaterpurifier.in/livpure-water-purifiers/
Product Specifications
Model Name
Glo Touch
Total Capacity
8.5 Litres (approx.)
Purifying Technology
RO + UV + UF + Taste Enhancer
Filter Type
Sediment Filter, PA Filter, Pre-Activated Carbon Filter, RO Membrane, UV Disinfection Column, Ultra-filtration Cartridge
Material Of Construction
Food Grade Material
Total Dissolved Solids (TDS) Levels
Up to 2000 ppm
Purification Capacity
Up to 15 Litres/hour
Membrane Type
75-80 Gallons Per Day
UV Disinfection Column
24 Liters/hour
Max Duty Cycle
Up to 75 Litres/day
Electrical Type
Electrical and Storage
Maximum Inlet Pressure
3 Kg/Sq.cm**
Minimum Inlet Pressure
0.3 Kg/Sq.cm*
Input Voltage
140-300 V AC/60 Hz
Operating Voltage
24 V DC
Indicator
Power On, Purification Process, Tank Full and Filter Change Indicator
Installation
Wall Mounting
Sales Package
Product, Installation kit, User Manual cum warranty card
Service Type
Onsite service
Found this review for Livpure Glo Touch Water Purifier useful? Please leave a comment below or share your love by connecting with us on Facebook.
Reliable Purification, Appealing Design & Attractive Price
Installation, Warranty & Service
8
PROS
RO+UV+UF Purification with Taste Enhancer
Clean, Compact Design with Touch Interface
Multiple dispensing options
Attractive price
CONS
No Water Dispensing without Electricity