Livpure Glo Lite RO+UF Water Purifier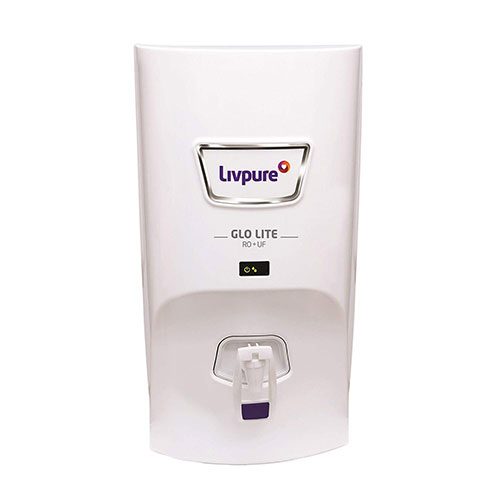 6 Stage Purification Technology
Nice clean design and compact
Livpure Glo Lite RO+UF is an affordable water purifier and features the same clean design as Livpure Glo RO+UV water purifier. Livpure Glo Lite is a universal water purifier which means that this purifier can be used for almost all sources of water like tap, borewell, and tanker.
Livpure Glo Lite RO+UF features a storage tank of 7 litres and purification capacity of up to 12 litres/hour. The 6 stage purification employs an anti-scalant cartridge that increases the life of the RO membrane. The final stage uses a silver impregnated post carbon filter that improves the taste of the water.

Rs. 7,290

Rs. 11,999
×
Product prices and availability are accurate as of the date/time indicated and are subject to change. Any price and availability information displayed on Amazon.com (Amazon.in, Amazon.co.uk, Amazon.de, etc) at the time of purchase will apply to the purchase of this product.
9 new from Rs. 7,290
Features of Livpure Glo Lite RO+UF Water Purifier
Purification Technology: 6 Stage RO+UF purification
Storage Capacity:7 litres
LED indicators for power on, purification process and tank
Wall-mount installation
Warranty:1 year
Installation: Free installation is provided by LivPure.
Device Specifications
Model Name
Glo Lite
Storage Capacity
7 Litres
Purifying Technology
RO + UF
Material Of Construction
Food Grade Material
Purification Capacity
Upto 12 Litres/hour
Indicator
Power on, purification, tank full indication
Found this review for Livpure Glo Lite Water Purifier useful? Please leave a comment below or share your love by connecting with us on Facebook.
Value for Money Water Purifier
Installation, Warranty & Service
8
PROS
6 Stage Purification Technology
Nice clean design and compact