Livpure Glitz 7 L UV + UF Water Purifier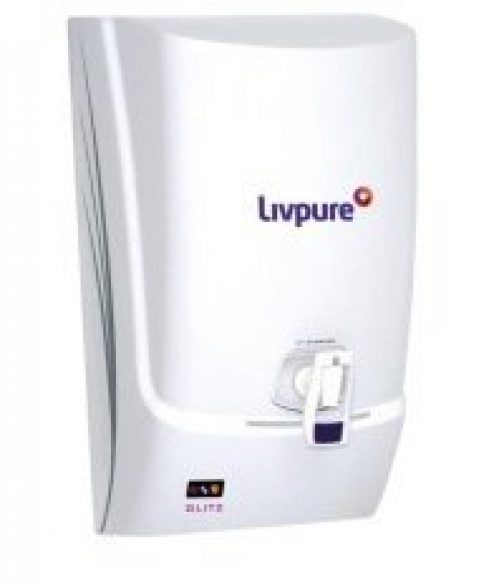 4 Stage UV+UF Purification
Compact & Stylish Design
UV Fail Alarm
Purification Capacity of up to 60 Litres/hour
Upgrade to the new and stylish Livpure Glitz UV Water Purifier and transform unhealthy tap water into safe and healthy water.
The Livpure Glitz UV Water Purifier is one of the best UV+UF water purifiers in India. Livpure Glitz UV and uses double purification of Ultrafiltration (UF) and Ultraviolet (UV) technology to give you clean and safe drinking water.
Featuring a UV failure indicator, this water purifier ensures that the water that you drink is 100% safe.
Its elegant and stylish design & its 4 stage purification system make this Livpure water purifier ideal for any home with municipal tap water supply.


Rs. 6,999

Rs. 8,990
×
Product prices and availability are accurate as of the date/time indicated and are subject to change. Any price and availability information displayed on Amazon.com (Amazon.in, Amazon.co.uk, Amazon.de, etc) at the time of purchase will apply to the purchase of this product.
18 new from Rs. 6,999
4 Stage Purification Process
Livpure Glitz UV uses a 4 stage purification process to give you water that is not only 100% clean and safe water.
1. Sediment Filter: Sediment Filter consists of multiple layers of non-woven, non-biodegradable polypropylene fiber. All the layers are heat sealed to avoid zero contamination and to effectively remove all fine and suspended impurities from the input water.
2. Pre Activated Carbon Filter: Pre-Activated Carbon Filter is filled with highly-activated coconut shell charcoal, it purifies the water by removing residual chlorine, herbicides, pesticides, insecticides, and polyaromatic hydrocarbons with carcinogenic properties. It also absorbs bad odor and improves the taste of purified water.
3. UV Disinfection Column: Ultraviolet Disinfection Column consists of a UV lamp that throws high intensity UV radiation to disinfect the water from bacteria, viruses and protozoa. UV rays inactivate all disease causing harmful micro-organisms and make the water safe to drink.
4. Ultra Filtration (UF) Cartridge: The UF membrane effectively removes bacteria, algae, cysts, and other micro-organisms. It also enhances the clarity of water by removing super fine suspended impurities.
Device Specifications
Model Name
Glitz UV+UF
Storage Capacity
7 Litres
Purification Capacity
Up to 60 Litres/hour
Purifying Technology
UV + UF
Material Of Construction
Food Grade Material
Filters & Cartridges
Sediment Filter, Carbon Filter, UV Disinfection Column, and UF Cartridge Filter
Weight
4.8 Kg
Electrical Type
Electrical and Storage
Width
25 cm
Height
45 cm
Depth
28 cm
Maximum Inlet Pressure
3 Kg/Sq.cm
Minimum Inlet Pressure
0.3 Kg/Sq.cm
Total Dissolved Solids (TDS) Levels
1-500 ppm
Input Voltage
140-300 V AC/50 Hz
Indicators
Power ON, UV Process, Tank Full, and Fault indication
Alarms
UV failure
Replacement Cycle
6000 Litres
In the Box
Product, Installation kit, User Manual cum warranty card
Service Type
Onsite service, during warranty period sediment filter and carbon filter will be replaced and two preventive maintenance will be provided free
Installation
Wall Mounting
Warranty
1 Year
Found this review for Livpure Glitz UV+UF Water Purifier useful? Please leave a comment below or share your love by connecting with us on Facebook.
One of the Best Selling UV Purifier
Installation, Warranty & Service
8
PROS
4 Stage UV+UF Purification
Compact & Stylish Design
UV Fail Alarm
Purification Capacity of up to 60 Litres/hour
CONS
Not Suitable for High TDS Water