Are you planning to buy a new water purifier for your home?
If you have read our comprehensive water purifier buying guide then you know that the first step in buying a water purifier is checking the quality of water.
However, for professional testing of water, you may need to either send the water sample to a water testing lab or take the help of a professional. Sounds complicated?
Well, you are very lucky.
We have a piece of very good news for you.
Livpure, the leading brand of water purifiers and home appliances, is now offering an absolutely Free Home Water Testing and Demo for a very limited period.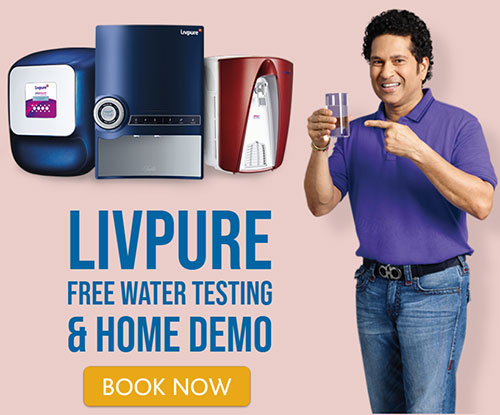 Livpure offers a wide range of technologically advanced water purifiers and is also known for its nationwide customer support and service.
Livpure water purifiers are now among the best selling water purifiers in India.
How to Book Livpure Free Water Testing & Home Demo?
First Click Here to go to Livpure's Free Water Testing & Home Demo request page.
Fill up the details in the form. All you need to enter is your name, email id, mobile no., pin code, and address.
You will receive an OTP on your mobile, enter the same in the OTP field.
Submit your details to successfully book the free home demo from Livpure.
Note: This is a limited period offer. Book Now before it's gone.
BOOK NOW!
You will receive a call from Livpure's customer support to confirm your demo request and schedule the free water testing and the demo at your home.
A trained professional from Livpure will visit your home for free water testing and free water purifier demo. This Free Home Demo from Livpure will give you a complete idea of the quality level of the water and help you take a smart step to ensure purity with a water purifier that is best for your home.