LG, one of the leading electronics brands, offers a wide range of consumer electronics products. LG has now launched an exciting range of innovative water purifiers with unique and first in it's class features.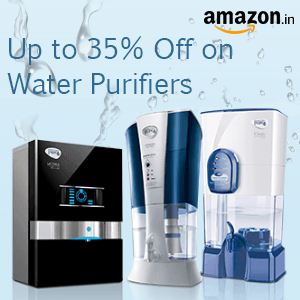 From the tempting design to quality purification, to the hygienic storage and one-touch hot and cold option, you'll always experience complete care when you choose an LG water purifier.
Designed especially for the Indian market, LG's range of water purifiers offer features never heard of in the Indian water purifier market.
Here is the best-selling LG Water Purifier price list updated on: March 21st, 2019
LG Water Purifier Price List
LG Water Purifier Review
LG is the first and the only brand to offer a stainless steel water tank which not only inhibits bacteria growth but also takes care of foul smell, algae & stains.
Unlike plastic water tanks, the stainless steel water tank in LG water purifiers maintains the freshness of water for the much longer duration.
LG water purifiers are not only feature packed but also come in stunning design and smart display with useful indicators.
Key Features of LG Water Purifiers
True RO Filtration
Mineral Booster
Dual Protection Stainless Steel Tank
Everfresh UV Plus
Smart Display & Indicator
Flexible Installation: Wall Mount & Counter Top
Separate outlets for drinking water and water for vegetable & fruit cleaning
Airtightly sealed tank cover
5 Stage RO Filtration
LG Customer Care Number
Call an LG Support Representative on 1800 315 9999 Or 1800 180 9999, 24 hrs, 7 days a week (Except national holidays)