Kent Gold 20 Litres UF Gravity Based Water Purifier
Operates without electricity
No chemicals used during filtration
High storage capacity
Easy maintenance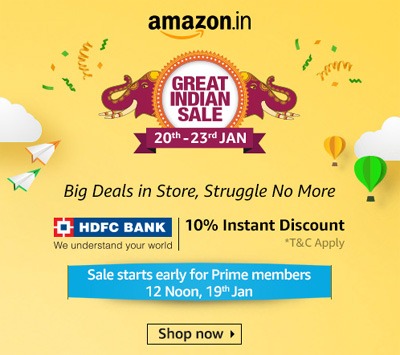 Features of Kent Gold 20 Litre UF Gravity Based Water Purifier
Most cost effective water purifier with an average annual maintenance cost of Rs. 550 only.
Transparent tank made of unbreakable ABS food-grade plastic
High base stand enables easy positioning of glass to draw water
Long life membrane expected to last up to 4000 Litres
Ideal for purification of water from most sources preferably low TDS water
Purification by hollow fiber ultra filtration membrane with a pore size of 0.1 microns
7 litres – Raw water, 13 litres – Purified water
Use of nano-silver carbon for better disinfection of water
1 Year Manufacturer Warranty

Rs. 2,300

Rs. 2,700
×
Product prices and availability are accurate as of the date/time indicated and are subject to change. Any price and availability information displayed on Amazon.com (Amazon.in, Amazon.co.uk, Amazon.de, etc) at the time of purchase will apply to the purchase of this product.
17 new from Rs. 2,300
Kent Gold 20 Litres UF water Purifier Purification Process
Kent Gold purifies water using a 3 stage purification process without using any harmful chemicals.
1. In the first stage, the water passes through a Sediment Filter that removes dirt and impurities.
2. After this the water passes through an Activated Carbon Filter that removes organic and chemical impurities like Chlorine which makes the water odourless and natural tasting.
3. In the third stage the water passes through the state-of-the-art hollow fibre UF membrane with a pore size of 0.1 microns which not only removes bacteria but also removes cysts. This makes drinking water pure, without using any harmful chemicals such as Chlorine, Bromine or Iodine.
High Storage Capacity
Kent Gold has 13 litres of purified water storage capacity and an additional 7 litres in the raw water tank, ensuring that you never run out of purified water.
Smart Design
KENT Gold can be placed on any flat surface. The high-base stand lets you easily fill the glass without limiting the purifier to be placed on the edge of a table/slab.
It is very easy to install and maintain.
World's Top Quality Certifications
This water purifier meets the stringent quality standards of world's renowned laboratories like WQA (USA & India) and NSF (USA).
Most Cost Effective Water Purifier
Kent Gold purifies 4000 litres of water and requires an annual replacement of Kent Gold Spare Kit that costs Rs. 600 only. On the other hand, ordinary gravity purifiers need to have their filter or battery replaced after every 1500 litres of water. These equipment cost around Rs. 475, bringing the annual expense to Rs. 1425. This means an annual saving of Rs. 875, which makes Kent Gold the most cost effective purifier.
Specifications

Device
Model Name
Gold
Storage Tank Capacity
7 litres – Raw water, 13 litres – Purified water
Purifying Technology
Gravity based UF Technology
Filter Type
SS Mesh, Sediment, Activated Carbon
UF Membrane
0.1 Microns Hollow Fiber Hydrophilic UF Membrane
Purification Capacity
20 litres/hour
Filter Life
4000 Litres
Max. Duty Cycle
120 litres/day
Max Operating Water Temperature
35°C/113°F
Min Operating Water Temperature
10°C/ 32.2°F
Other Body Features
Food-grade, Non-breakable Plastic
Electrical Type
Non – Electrical and Storage
Installation Type
Table-Top
Width
35.5 cm
Height
60 cm
Depth
32.6 cm
Net weight
3.6 kg
Found this review for Kent Gold 20 Litres UF Gravity Based Water Purifier useful? Please leave a comment below or share your love by connecting with us on Facebook.
Economical UF Water Purifier for Municipal Water
Installation, Warranty & Service
9
PROS
Operates without electricity
No chemicals used during filtration
High storage capacity
Easy maintenance
CONS
Cannot be used for water with high TDS