Kent Excell Plus 7 Litres RO+UF+UV+TDS Controller Water Purifier
Under the Counter or Under the Sink Installation
Suitable for Water from all Sources
TDS Controller Retains Essential Minerals in Purified Water
Stores Up to 7 Litres of Purified Water
Alarms for UV Fail and Filter Change
Purification capacity of 15 Litres/Hour
Kent Excell Plus is an advanced Under the counter or under the sink water purifier with Kent's patented Mineral RO Technology and TDS controller.
Features of Kent Excell Plus RO+UF+UV+TDS Controller Water Purifier
Double purification by RO + UF + UV with TDS controller that allows adjustment of TDS level of purified water.
Removes even Dissolved Impurities while retaining Essential Minerals.
Purified water storage capacity of 7 litres with hydrostatic tank.
Purification Capacity of 15 liters/hour.
Elegant under-the-counter/under-the-sink design.
Suitable for water from all sources such as bore-wells, tanks or municipal tap-water.
Spin-welded RO membrane housing that prevents tampering.
Push-fit components for leak-proof and maintenance free performance.
Fully automatic operation with auto-start and auto-off.
Filter Change Alarm to indicate filter replacement time
UV Fail Alarm to indicate failure in UV system
Built-in SMPS: For wide range of input AC voltage.
Warranty: All Electricals and Mechanical parts – 1 Year. Consumables like RO Membrane & UF Membrane – 1 Year. Consumables like Sediment Filter, Carbon Filter & Post Carbon Filter – 6 Months.

Rs. 16,600

Rs. 19,500
×
Product prices and availability are accurate as of the date/time indicated and are subject to change. Any price and availability information displayed on Amazon.com (Amazon.in, Amazon.co.uk, Amazon.de, etc) at the time of purchase will apply to the purchase of this product.
20 new from Rs. 16,500

Innovative Design
Kent Excell+ has an innovative and compact design suitable for all modern kitchens. Kent Excell Plus is one of the few purifiers which can be installed under-the-counter or beneath the kitchen sink, saving a lot of kitchen space. Kent Excell Plus can also be attached with water coolers and refrigerators with water dispenser.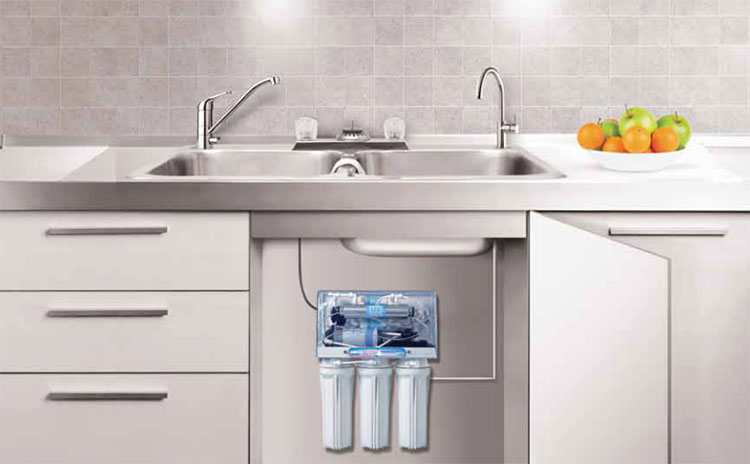 High Storage and Purification Capacity
Kent Excell+ comes with a hydrostatic tank which can store 7 litres of purified water. The amazing feature of this tank is it can supply purified water even without running water or electricity. With a high purification capacity of 15 liters/hour, this purifier can not only quench the thirst of a big family but can also fill big water coolers with purified water in a matter of few hours only.
Kent's Patented Mineral RO Technology
One of the major drawbacks of using RO purifiers is if the TDS level of incoming water is not high then the water purified by RO may contain less than the required level of essential minerals.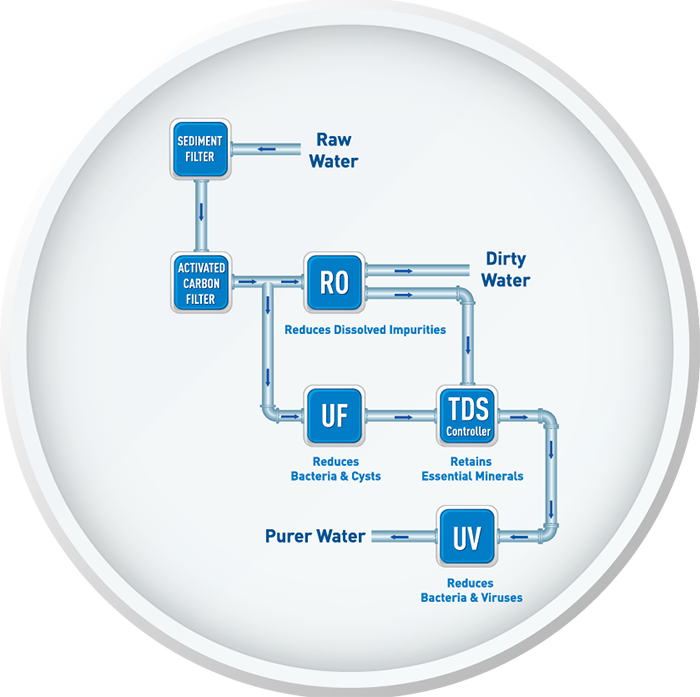 But Kent Excell Plus features Kent's patented Mineral RO Technology which retains essential natural minerals in purified water using the TDS Controller, giving you 100% safe and great tasting water. You can increase or decrease the mineral content in the purified water by simply turning the screw of the valve.
Double Purification of RO/UF+UV
The double purification of RO/UF + UV removes all kinds of suspended impurities, dissolved solids, chemicals and biological impurities like bacteria, viruses and cysts. The patented Mineral RO technology from Kent not only gives you 100% pure but 100% healthy water by maintaining the essential minerals in the purified water.
Filter Change and UV Fail Alarm
KENT Excell Plus comes with another great feature that alerts you with a loud alarm if the UV lamp malfunctions.
Apart from the UV Fail alarm, this innovative purifier also alerts you well in advance when the filters are to be changed. The filter change alarm is automatically activated after 700 hours of use since the time of installation or since the time of last filter change.
Both these features ensure that the water you drink is 100% pure by stopping the purification process in case of UV fail or if the filters are not changed within the next 60 hours of filter change alarm.
Suitable for Water from All Sources
Kent Excell+ is a universal water purifier, with RO+UF+UV purification it can purify water from almost all sources like bore well, tanks or municipal tap water.
High-power 11W UV Lamp
The UV chamber of this water purifier has a high intensity 11W UV lamp that ensures complete safety from disease causing harmful microorganisms like bacteria, viruses, protozoa and cysts.
Fully-automatic Operations
Apart from the common automatic on and off feature that most of the purifiers in this class offer, Kent Excell Plus has an advanced micro-processor that performs the following functions: –
UV Stabilization Delay: To ensure that the UV lamp is pre-heated and is working at its optimum level before it starts disinfecting water, the controller provides a two seconds delay to UV lamp when the purifier is switched on. During this short period, only the UV lamp is switched on and all other electrical devices of the purifier remain switched off.
Purification Delay: To ensure that the idle water lying in the internal pipes and in the UV chamber is disinfected before being passed into the storage tank, the system provides 5 second delay when the purifier is switched on. During this time, the UV lamp kills all micro-organisms that may be in the water inside UV chamber. After this delay, all other electrical devices such as booster pump and solenoid valve are switched on to start normal purification process.
Alarms/Alerts: The controller also controls the timing of UV Fail Alarm and the Filter Change Alarm.
Voltage Fluctuations
This water purifier, with its built-in SMPS, handles a wide range of input AC voltage which makes is resilient towards power fluctuations.
Spin-welded RO Membrane and Leak-proof Performance
Thanks to its spin-welded RO membrane and push-fit components, this water purifier prevents tampering of the membrane and prevents leakage of water.
Material of Construction
Made from non-breakable ABS plastic, Kent Excell Plus is highly durable and sturdy. All the parts which come in contact with the water during purification or storage are made from food-safe and harmless materials.
World's Top Quality Certifications
Like all Kent RO Purifiers, Kent Excell Plus is also tested and certified for its performance and quality by world's renowned laboratories, such as the WQA (USA & India), NSF (USA) and ISI (India).
You can view all Kent water purifiers here.
 Kent Excell Plus Specifications
Model Name
Excell Plus
Storage Capacity
7 L
Purifying Technology
RO + UV
Filtration Capacity
15 L/Hr
Filter Cartridges
Sediment, Activated Carbon, Carbon Block, UF, Post Carbon
Maximum Duty Cycle
75 Litres/Day
Power Consumption
60 Watt
Type
Electrical and Storage
Power of UV Lamp
11 Watts
Membrane Type
Thin Film Composite RO
Installation Type
Wall mounting
Body Material
ABS / Stainless Steel
Input Water Temperature (Max/Min)
35°C/10°C
Input Voltage
160-300 V AC/50-60 Hz
Booster Pump Voltage
24 V DC
Width
20 cm
Height
52 cm
Length
39 cm
Weight
10.7 kg
Found this review for Kent Excell Plus  RO + UV Water Purifier useful? Please leave a comment below or share your love by connecting with us on Facebook.
A Perfect Under The Sink Water Purifier
Installation, Warranty & Service
8
PROS
Under the Counter or Under the Sink Installation
Suitable for Water from all Sources
TDS Controller Retains Essential Minerals in Purified Water
Stores Up to 7 Litres of Purified Water
Alarms for UV Fail and Filter Change
Purification capacity of 15 Litres/Hour