HUL Pureit Classic 23 Litres Water Purifier
Auto Shut Off
GermKill Life Indicator
Total Storage capacity of 23 Litres
Review of Pureit Classic 23 Litres
Amazing features and the promise of HUL have made Pureit Classic 23 Litres Water Purifier one of the best selling gravity based water purifiers in India.
HUL Pureit Classic 23L Water Purifier is a gravity based water purifier and doesn't require any electricity, gas or running water. Very easy to install and maintain. This water purifier is most suitable for municipal water supply or rural/urban areas with scarcity of electricity and running water.
This purifier is highly portable and you can shift it from one place to other without any hassles. This is a level up model of Pureit Classic 14 Litres gravity based water purifier and also get a rank in our best water purifier under Rs. 3000 list.
Top Features of Pureit Classic 23 Litres Water Purifier
Virus Removal: It is capable of removing 1 crore virus in 1 litre of water.
Multi-stage Purification: It involves multi-stage purification mechanism through programmed Microfibre Mesh, Activated Carbon Trap, GermKill Technology, and Carbon Polisher.
Purification Technology: Gravity based.
Purification Capacity: The GermKill Kit has the capacity to filter up to 1500 litres of water.
Auto Shut-off: The purification process automatically stops when the life of GermKill Kit is over.
Storage Capacity: Total Storage capacity of 23 litres: 14 Litres for Upper Tank and 9 Litres for Purified Water Tank.
USEPA Compliant: Meets stringent international criteria of the Environmental Protection Agency (EPA), USA, for harmful viruses & bacteria removal.
Break Resistance Tap: A rigorous testing up to 50,000 times is done to ensure its durability.
Design: Compact, sleek and covered design that optimizes space and looks great in modern kitchen.
No Electricity or Running Water: Doesn't need electricity or continuous water supply for purification.
GermKill Life Indicator: It gives an advance warning before GermKill Kit needs to be changed.
Material: Food safe, non-toxic, engineering grade plastic.
Warranty: 6 Months manufacturer's warranty on the product.
Ideal For: Soft water like municipality water supply.
AMC: No AMC required, only requires GermKill Kit as and when required.
Best Price

Rs. 2,200

Rs. 2,850
×
Product prices and availability are accurate as of the date/time indicated and are subject to change. Any price and availability information displayed on Amazon.com (Amazon.in, Amazon.co.uk, Amazon.de, etc) at the time of purchase will apply to the purchase of this product.
4 new from Rs. 2,200
out of stock
Purification Process of Pureit Classic 23L Water Purifier
The HUL Pureit Classic water purifier operates in 4 different stages: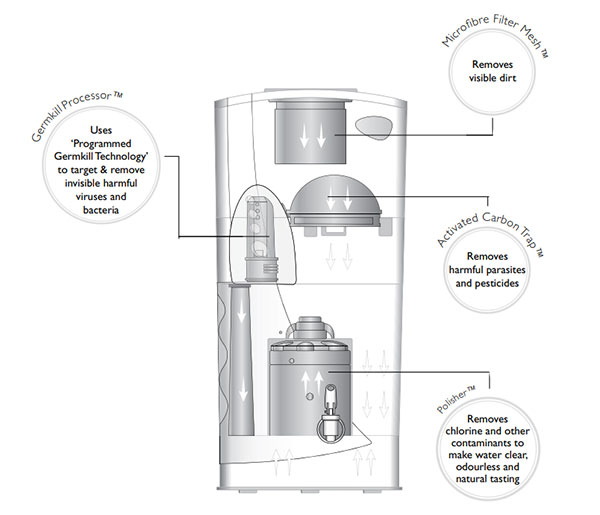 1. The first stage utilizes Microfiber mesh, which removes larger particles and physical impurities from water poured on the upper tank.
2. The second stage consists of Activated Carbon Trap in which the activated carbon effectively removes chemical impurities, bad smell and odor from the water.
3. In the third stage, action of GermKill Kit (GKK) comes into play. The GKK is a patented filter of Pureit that is 100% chlorine based, which efficiently kills harmful bacteria and viruses. It has the ability to kill 1 crore virus in 1 liter of water.
4. Finally, the fourth stage utilizes a Polisher that removes chlorine and other contaminants to make water clear, odourless and natural tasting.
Device Specifications
Model Name
Pureit Classic
Total Capacity
23 Litres
Purified storage capacity
9 Litres
Purifying Technology
Gravity Based
Purification Features
Programmed GermKill Technology
Material Of Construction
Food Grade, Non Toxic, Engineering Plastic
Germkill performance
Meets stringent international criteria of the Environmental Protection Agency (EPA), USA, for harmful viruses & bacteria removal
Filtration Capacity
9 L/hr
Purification Capacity
1500 L
Width
29 cm
Height
61 cms
Depth
26 cm
Weight
4.1 Kgs
Found this review for HUL Pureit Classic 23L Water Purifier useful?
Please leave a comment below or share your love by connecting with us on Facebook. And, check top offers on water purifier from Amazon and Flipkart and save money on your water purifier.
Top Selling Gravity Based Water Purifier
Installation, Warranty & Service
8.5
PROS
Auto Shut Off
GermKill Life Indicator
Total Storage capacity of 23 Litres
CONS
Cannot eliminate heavy metals
Not Suitable for high TDS water