Hindware Calisto RO+UV+UF Water Purifier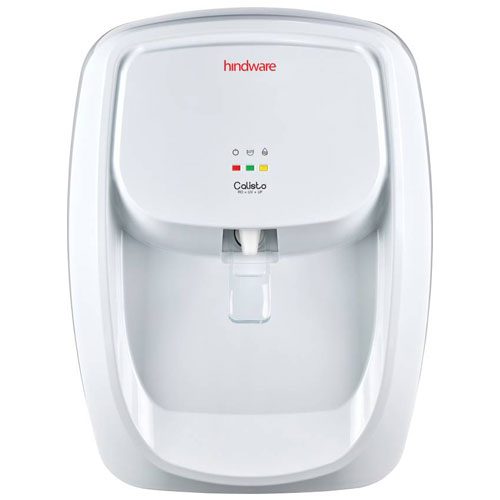 100% RO+UV+UF Purified Water
Clean and Elegant Design
Magnetic Detachable front cover
Attractive Price
7 Litres Storage Tank
Exclusively Designed High Performance Filters
Hindware Calisto 7 L RO+UV+UF Water Purifier Review
Hindware is aiming to place Calisto as the 'Best in Class Stylish Performer' and we are not surprised at all. One look at Hindware Calisto and you will instantly notice the striking difference in design. Hindware Calisto is elegantly designed and looks quite compact in its shape with sparking white body.
Hindware Calisto is one of the best-selling RO + UV + UF water purifier on Flipkart.
Hindware Calisto provides 100% RO + UV + UF Purified drinking water. The water purifier can be used for all kind of water sources like Municipal Water Supply, ground or bore well water. The Advanced 6 stage purification technology works for the water with TDS upto 1800 ppm and provides not only pure and clean drinking water but also enhances the taste of water.
Hindware Calisto water purifier comes with a storage tank capacity of 7 Litres and purification rate upto 12 Litres per hour. Its stylish looking transparent tap handle adds a touch of modern design that clearly stands out. Neatly placed 3 Smart LED indicators for Power on/off, Tank Full, and Purification Process give you all the essential information.
Another interesting and first of its kind design feature is the 'Magnet Assisted Detachable Front Cover', the front cover can be easily removed which makes it easy to service and maintain. Front cover can be opened by just opening the single screw placed at the bottom of the purifier body. With Hindware Calisto Water Purifier, clean and pure drinking water is not hard to come by.
Why Should you Choose Moonbow Calisto Water Purifier?
Advanced 6 stage RO + UV + UF Purification Technology
100% RO + UV + UF Purified Drinking Water
Aesthetically designed beautiful outer body
Power, Tank full & Purification Indicator
Large 7 L storage tank capacity
Elegant looking transparent tap handle
Magnet assisted detachable front cover that adds to your comfort
Exclusively designed high performance filters
Suitable for TDS upto 1800 ppm
Assurance of 1 year warranty
Convenient for both Table Top and Wall Mounting
Strong Nationwide Service Network across 800 cities
Purification
Hindware Calisto features the industries best Advanced 6 stage RO+UV+UF Purification to give you clean and pure drinking water. The purification with 100% RO+UV+UF is designed to eliminate all kinds of impurities from water with TDS level up to 1800 ppm.
Advanced 6 Stage Purification
Ultrafine Sediment Filter: Removes visible impurities like dust, sand, etc.
Adsorbent Pre-Carbon Filter: Absorbs bad colour, odours, and removes excess chlorine and organic impurities.
Superior RO Membrane: Removes dissolved impurities such as arsenic, salts, fluoride, lead, silica and microbiological impurities like bacteria & viruses.
Germ Eliminator UV Technology: Eliminates waterborne diseases by deactivating bacteria & viruses.
Ultra-Filtration: UF membrane removes bacteria & cysts.
Post Carbon Filter: Post Carbon Filter polishes the water and improves the taste.
Device Specifications
Model Name
Calisto RO+UV+UF
Storage Tank Capacity
7 Litres
Purification Capacity
Up to 12 Litres/hour
Purifying Technology
Advanced 6 Stage RO+UV+UF
Filter Type
Sediment Filter, Pre Carbon Filter, RO Membrane, UV, UF Filter, and Post Carbon Filter
Membrane Type
Thin Film Composite RO Membrane
Material of construction for plastic parts
Food safe, non-toxic, engineering grade parts plastics
Total Dissolved Solids (TDS)
Up to 1800 ppm
Indicators
Power On/Off, Tank Full, Purification Process
Power Consumption
36 W
Input Water Temperature
10 – 45 DegreeC
Installation Type
Wall and Table Top Mounting
Width
39 cm
Height
50 cm
Depth
23.6 cm
Found this review for Hindware Calisto RO+UV+UF Water Purifier useful? Please leave a comment below or share your love by connecting with us on Facebook.
Best in Class, Elegant Design and Very Good Price
Installation, Warranty & Service
7.5
PROS
100% RO+UV+UF Purified Water
Clean and Elegant Design
Magnetic Detachable front cover
Attractive Price
7 Litres Storage Tank
Exclusively Designed High Performance Filters
CONS
No Filter Change Alarm/Indicator
No TDS Controller or Mineralizer, not suitable for low TDS water