Havells is one of the fastest growing consumer durable company in India with an experience of over 30 years. Havells launched it's innovative range of water purifiers in December, 2017.
Water quality has worsened significantly over the years with new age pollutants that continue to threaten us with conditions ranging from minor ailments to life-threatening diseases.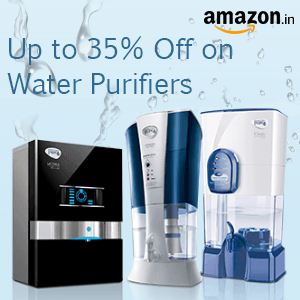 Havells has recently launched it's range of water purifiers after years of research in the field of water purification.
There are many brands of water purifiers in India but what makes Havells Water Purifiers stand out is the fact that Havells' range of water purifiers not only provide powerful purification to remove all complex impurities but also add the essential minerals that are removed during purification.
Here is best-selling Havells water purifier price list updated on: March 21st, 2019
Havells Water Purifier Price List
Why Choose Havells Water Purifiers
The other USP of Havells Water Purifiers is the innovative and groundbreaking design that not only makes them beautiful to look at but also provides functional brilliance in form of features like corner installation, soft touch faucets, smart user interface with advance alerts, removable tank and more.
Benefits of Havells Water Purifiers
First Range of water purifiers that can be installed in wall corners.
Futuristic Design
Smart User Interface
Best-in-Class Purification Technology
Up to 8 Stage Purification
Soft Touch Faucet in place of regular tap
Removable Tank
Contamination Proof Tank Cover
Havells Customer Services
Havells claims to offer '1 in a Million Service' by quickly responding and quickly resolving the customer complaints and queries.
Havells Customer Care Helpline Number
Toll free Number India: 1800 11 0303 & 1800 10 3131
Email: [email protected]