Eureka Forbes Aquasure from Aquaguard Splash RO+UV+MTDS Water Purifier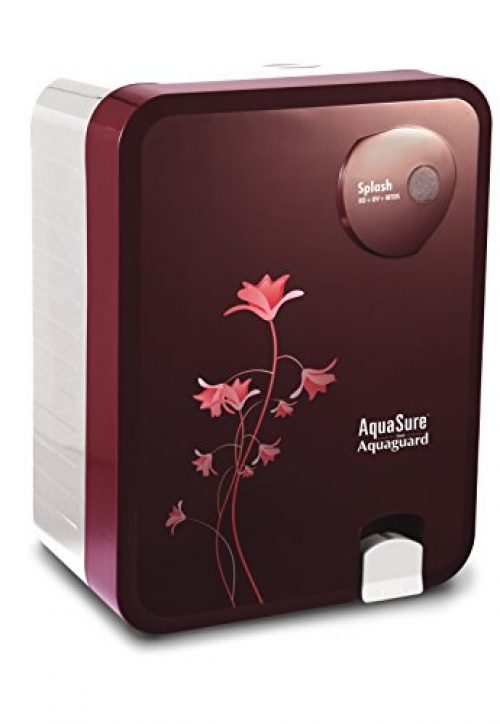 RO+UV+TDS Regulator
Ideal for All Kinds of Water Sources
Smart Energy Saving Mode
Voltage Fluctuations Damage Protection
Powered by Universal RO+UV+MTDS technology, the Aquasure from Aquaguard Splash is best in its own class. Eureka Forbes always suffices all your needs keeping your pocket and water problems in mind. Aquasure from Aquaguard Splash can purify water coming from any source and provides you pure water for drinking.

Rs. 9,999

Rs. 17,999
×
Product prices and availability are accurate as of the date/time indicated and are subject to change. Any price and availability information displayed on Amazon.com (Amazon.in, Amazon.co.uk, Amazon.de, etc) at the time of purchase will apply to the purchase of this product.
7 new from Rs. 9,999


Top Features of Aquaguard Splash RO+UV+MTDS 6 L Water Purifier
Advanced RO+UV+MTDS Purification
The topmost feature of Auqaguard Splash is RO+UV purification along with MTDS regulator. MTDS regulator ensures that the purifier works with various sources of water and control TDS up to 2000 mg/lts.
Smart Energy Saving Mode
The smart energy saving feature of Aquasure from Aquaguard Splash saves on your electricity bill. It automatically turns off the power when the storage tank in full.
Voltage Fluctuation Damage Protection
The unwanted fluctuation in your electricity may damage your purifiers. But the built-in advance voltage fluctuation damage protection feature of Aquasure Splash protects your water purifier from damaging.
TDS Regulator
Worried about the bad taste in your home water supply. Worry no more, as Aquaguard Splash offers TDS controller which allows you to adjust taste depending on the source of water.
6 Litre Large Tank
Aquaguard Splash features a tank of 6 litres for small to medium-sized families.
Product Specifications
Model Name
Aquaguard Splash
Storage Tank Capacity
6 Litre
Purifying Technology
RO + UV + MTDS
Electrical Type
 Electrical & Storage
Operating Voltage
130 – 270 volts
Installation Type
Table Top & Wall Mounting
Width
21.7 cm
Height
41.2 cm
Depth
30.8 cm
Net weight
6 kgs
Found this review for Eureka Forbes Aquasure from Aquaguard Splash RO+UV+MTDS 6-Litre Water Purifier useful? Please leave a comment below or share your love by connecting with us on Facebook.
Purifies All Types of Water
Installation, Warranty & Service
8
PROS
RO+UV+TDS Regulator
Ideal for All Kinds of Water Sources
Smart Energy Saving Mode
Voltage Fluctuations Damage Protection
CONS
No Display
No Alert for Filter Change