Recently, we have received a lot of queries from the customers on how to test the drinking water for various types of impurities at home.
We have already discussed about how to find the TDS of drinking water in full detail. But finding only the TDS is not enough. TDS is only one of the factors that we need to look at, there are several other impurities commonly found in drinking water in India.
In this post we will be talking about how you can test your drinking water for impurities like bacteria, pesticides, lead, chlorine, hardness, pH and more.
What is the need for testing the drinking water?
Whether you are planning to buy a new water purifier or you already have one at your home but still you and your family members are down with waterborne diseases like Typhoid, Cholera, and Diarrhea etc.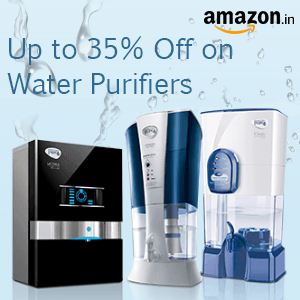 How can you look for a water purification solution if you are not sure of what impurities are present in your drinking water?
Frequent occurrence of waterborne diseases is a clear sign that the water you are drinking is contaminated. And, if you smell trouble with your drinking water then you should ideally get it tested at a water testing lab to know about all the contaminants.
But, we understand that most of us would not find any water testing facility nearby. Wouldn't it be better if you have some way to test the water yourself at home?
Thankfully, there are several ready to use water testing kits available in the market which you can use yourself.
How to test the drinking water at home?
There are several ways and kits available to test the presence of one or more impurity in water. In this post we will try to look at one such water testing kit called 'First Alert WT1 Drinking Water Test Kit'.
Before, we begin to throw more details on how to use this kit to find common impurities in water, we would like you to understand that no water testing kit can match the accuracy of a professional water testing lab.
This kit is beneficial as it provides you preliminary and approximate results of contamination. This kit shouldn't be used to certify water as safe or unsafe for drinking. And if the screening test using this kit is positive then you should get the water tested at a lab.
First Alert WT1 Drinking Water Test Kit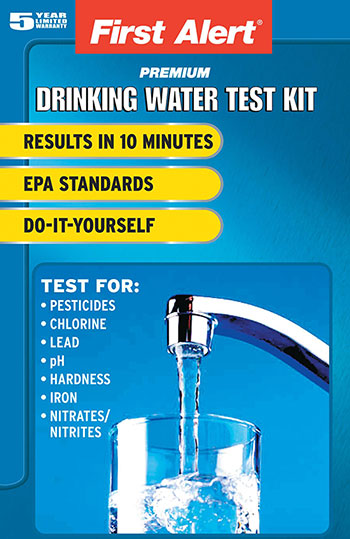 This water test kit is designed to test for eight common contaminants like bacteria, lead, pesticides, nitrates, nitrites, chlorine, pH, and hard water. This easy to use 'Do It Yourself' kit comes with all you need to test your drinking water and gives you results instantly in just 10 minutes.
Rs. 2,665
out of stock
5 new from Rs. 2,665
as of March 20, 2019 5:30 am

Amazon.in
The Kit comes with:

One Bacteria Test Vial
One Lead / Pesticide Test Packet
One Nitrate / Nitrite Test Packet
One pH / Hardness / Chlorine Test Packet

The tests are measured as per EPA (United States Environmental Protection Agency) standards for drinking water (given below).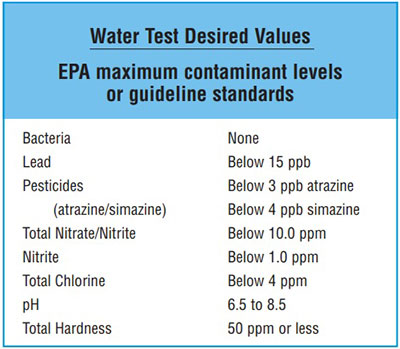 The kit comes with a detailed instruction manual for performing all the tests for all 8 contaminants. Simply follow the given instructions and compare results to the desired values. Drinking water which tests outside the desired values for any of the contaminants can be harmful to your health.
We hope the above information will be useful for many users.
If you liked this post and would like to read more such information in future, please like our Facebook Page to get all updates.