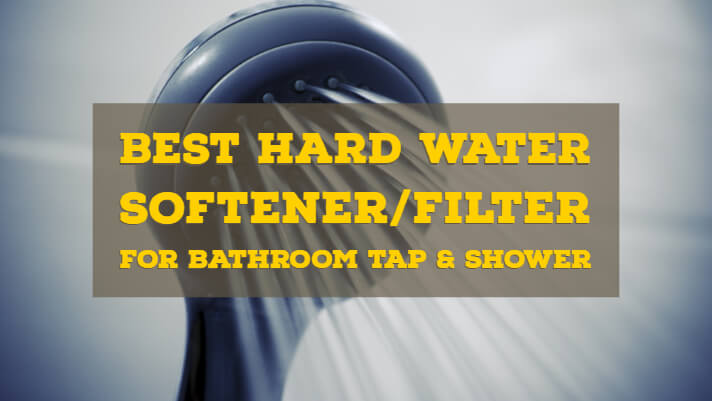 Did you know that hard water is actually harsh on your skin and makes it dry?
Are you fed up with the horrible brownish stains that the hard water causes on the bathroom walls and bath fittings?
Well, there is so much that you must face, having to deal with hard water problems every single day. But the problem is, what can you do if hard water runs in the region where you stay? Can you ever get away from it? Can your skin and hair ever be shining and healthy?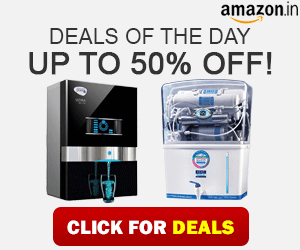 In this hi-tech age when everything is possible, there is also a way out to avoid hard water issues.
Yes, try using a hard water filter for your tap and shower. A shower filter for hard water is the only thing that you need to dissolve ALL these problems!
If you use a showerhead you can rid of the hard water and your skin and hair will also improve. Here are some of tap and shower filters which are the best in the market.
---
Top 7 Shower Filter & Water Softeners for Bathroom – Reviews
1. WaterScience CLEO Shower & Tap Filter (SFU-717)
If lately, you are losing tons of hair then the main culprit behind that is none other than chlorine and other hard water salts in your tap water. But the hard water is not only affecting your lustrous locks but it is also impacting your skin, making it dry and eventually leading to a range of dermatological conditions. The only solution to keep you safe is to filter out the contaminants.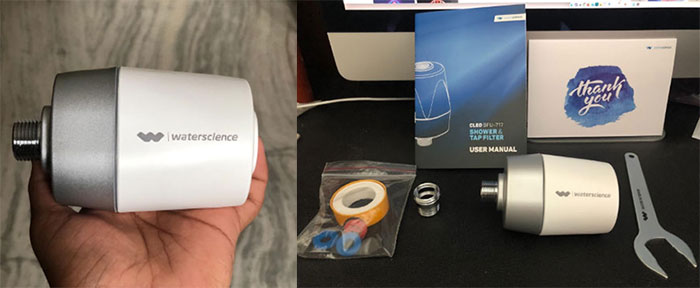 The CLEO shower and tap filter is designed with a 4 layer filtering system which filters out sediment & physical impurities, hard water salts, chlorine, bad odor, and prevents bacterial growth so that you can enjoy a clean and healthy shower.
This high-level water filter efficiently removes up to 95% chlorine, all thanks to its KDF technology. The filter also comprises of a range of hardness dispersal media including Zeolites which washes out the hard water salts so that it doesn't deposit on your hair and skin.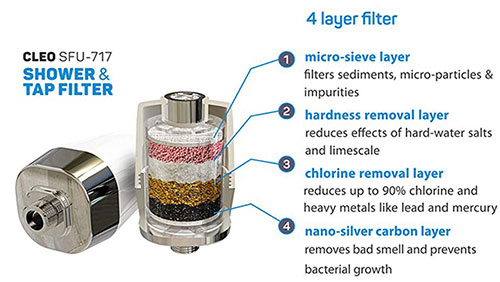 CLEO tap & shower filter comes with a replaceable cartridge. As per the company claims, one cartridge will last for up to 6 months or 25,000 litres of water. However, the actual life will depend on usage and quality of water.
The filter works fine for both cold and hot water (5 – 70 °C) which makes it fit for geyser water. It filters up to 6 litres of water per minute which is quite impressive.
The filter has been intelligently designed to fit easily with standard 22, 24 & 28 mm aerator taps, 1/2" wall, overhead, and handheld showers.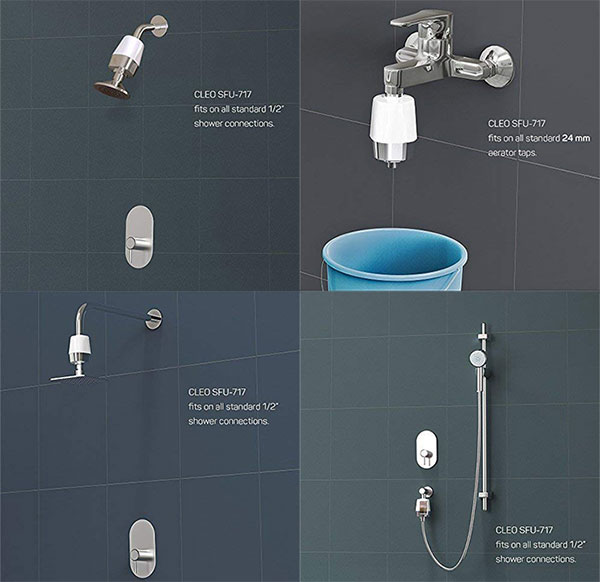 PROS:
Easy to install
4 layer filtering system to purify the water
No skin or hair related issues afterward
Value for money
Build quality is very good
Most effective as compared with other tap & shower filter
Replacement cartridge is easily available
CONS:
Cartridge may not last for as long as claimed
---
2. D'Cal Hard Water Scale Prevention System
This is a hard water conditioner which works by preventing the accumulation of calcium formation from the hard water. If you notice white marks in utilities like geyser rods, tiles, and water taps then you should be aware of the fact that you are using hard water for purposes of bathing, washing clothes, etc. The life of these appliances also deteriorates because of internal damage eventually leading to corrosion. Bathing with hard water eventually impacts your skin and hair making it rough and coarse. But thanks to this revolutionary water softener which uses proprietary technology thereby masking calcium ions to be inert.

If you have been using hard water and it made your skin, hair and not to forget the life of your water appliances miserable then you are in dire need of this water conditioner.
D'Cal does not remove calcium from the water.
So how does it make the water soft?
It uses a unique science to make the calcium inert. What it means is, calcium by nature is sticky in nature. D'Cal simply changes the sticky nature of calcium, so it does not stick to taps, buckets, tiles, your hair, and skin. Since it does not filter the water, you do not need to change any filters or perform any maintenance.
D'Cal hard water scale prevention system does not require any installation at all. All you have to do is just drop it into your water tank. It is suitable for water tanks of up to 2000 liters.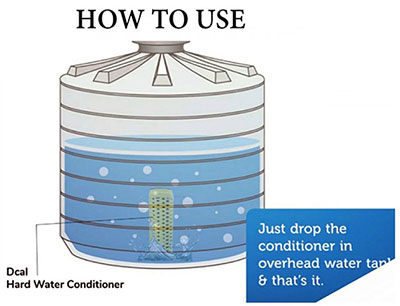 PROS:
Simple and safe to use
No wastage of water
No maintenance required
Hardness testing kit comes complimentary with which you can check whether the water is hard
Doesn't require any installation
CONS:
This product would not last long as promised
Does not feature a replaceable cartridge/filter
Maintenance cost is high as you need to buy a new piece after it's life is over
---
3. Rainbow Dots 12-Stage Shower Filter and Tap Filter
This hard water tap filter claims to do the unthinkable; apart from filtering out the harmful impurities, it also restores your already damaged skin and hair by usage of hard, chemical filled and contaminated water. It accomplishes this with the aid of the Maifan stone layer, a healing stone which has been used since decades in Japanese and Chinese beauty products to repair your already damaged skin and hair.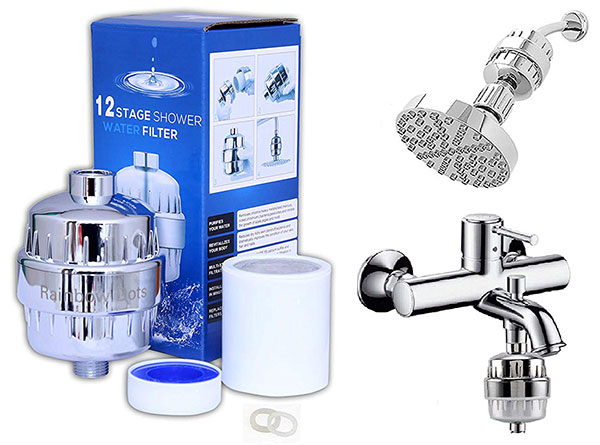 Check Price on Amazon
It can be installed on both showerhead and tap. Showerhead installation is very easy and can be done in a few minutes. Installation on tap would require you to buy some extra accessories and may require the help of a plumber.
Rainbow Dots filter is a 12 stage health filter which works best with both hot and cold water.
This particular tap filter for hard water not only eliminates hard water pollutants but also inhibits the growth of bacteria, mold, and fungi to protect your skin and hair. Usage of filtration technologies like KDF 55 and Calcium Sulfite keeps the heavy metals and chlorine at bay. Magnetic energy balls, mineralized balls, and alkaline balls improve the quality of water and make it fit for your skin and hair. Maifan stone revitalizes your damaged hair and skin. High-density stainless steel mesh and PP cotton filter remove visual impurities like dust and sediments.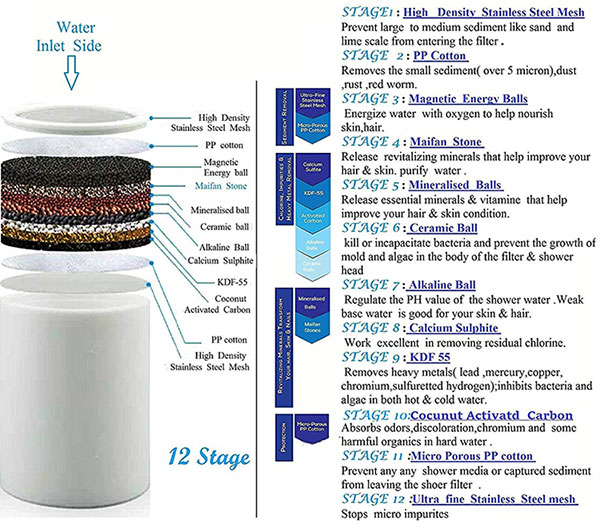 The replacement cartridge is quite affordable and is easily available online. Each cartridge has a filtration capacity of 35,000 to 40,000 litres of water. The best part is your already damaged skin will also get its youthful look back!
PROS:
Filters and revitalizes your skin and hair
Easily installs with the shower head
Ideal for chlorinated water, or water with visual impurities
12-stage filtration removes all common impurities and regulates the PH of water
Comes with an extra cartridge (total 2 cartridges) that would last for 10-12 months
Replacement cartridge is affordable and easily available
CONS:
Installation in tap is not so easy, you may need to buy some extra accessories and take the help of a plumber
---
4. HEMITO 10 Stage Shower Filter & Tap Filter
The Hemito shower & tap filter uses more or less similar filtration technology as the Rainbow Dots shower & tap filter that we reviewed above.
The filter from Rainbow Dots uses 10-stage filtration. All the filter media and stages are almost identical. The only difference that we could find is, Rainbow Dots uses an extra layer of 'Maifan Stone' which is not available in the filter from Hemito. As discussed above, Maifan Stone is believed to release revitalizing minerals that help improve your hair and skin.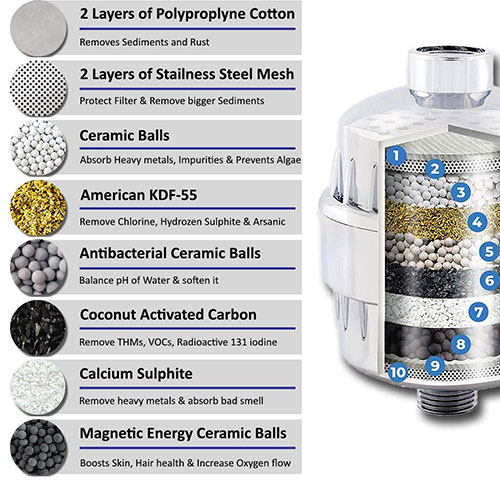 And the interesting thing is when we were looking out for the replacement cartridge for this Hemito filter we couldn't find one from the seller. That's when we realized there are plenty of similar tap & water filters being sold online and most of them are almost identical. So, we believe the replacement cartridge of Rainbow Dots filter should also fit in this filter. There are several other replacement cartridges that can be fitted in this shower & tap filter like this universal 15-stage shower & tap filter cartridge.
Hemito shower & tap filter also promises to provide the same set of advantages for your hair, skin, and bath fittings. The price of both the filters is almost similar, and like the Rainbow Dots filter, this one also comes with an additional cartridge. Both the cartridges should give you filtered bath water for about a year.
However, Hemito filter has also got a useful advantage over the Rainbow Dots filter. As pointed out in our review above, Rainbow Dots filter was a little difficult to install on taps but luckily this is not the case with Hemito filter. Hemito shower & tap filter comes with all the accessories that make the tap installation much easier. This filter comes with: 2 cartridges, 1 M24 to G1/2 male connector, 1 M28 to G1/2 male connector, 1 teflon tape, 2 silicon seal, 2 connector rings, and user manual.
PROS:
10 stage filter system will take care of your hair, skin and bath fittings
Product installation is easy
The product is compatible with most models of taps and showerheads
Ideal for chlorinated water, or water with visual impurities
Comes with an extra cartridge (total 2 cartridges) that would last for 10-12 months
CONS:
Build quality is not that good
---
5. Eco Crystal Fresh and Clean CPR Water Softener
This water softener looks more like the pre-filters used in water purifiers and uses a similar filter as well. However, it is definitely more advanced and more powerful as it also features a unique ability to soften the hard water.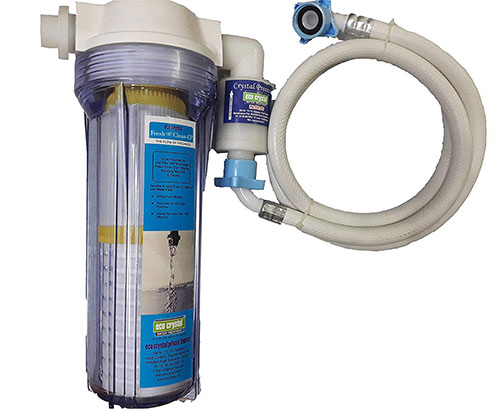 This water softener is mainly designed for home & kitchen appliances like washing machines, dishwashers, geysers, coffee machines, aquarium, and water purifiers. It can also be connected to taps or shower but such installation would require considerable effort, additional accessories and the help of a trained plumber.
This hard water softener makes the water physically soft with the help of resin media. It also removes the dirt, dust, and mud to give you clean and clear water. The advantages of using this water softener are:
It increases the life of home appliances and reduces their maintenance costs.
It reduces the damage to hair and skin caused by hard water.
It reduces the scale formation in bath fittings and appliances.
It reduces the use of detergent and shampoo because of more lather.
PROS:
Can be used with all water based appliances like washing machines, dishwashers, geysers, coffee machines, aquarium, and water purifiers
Replacement filter is quite cheap
CONS:
High price
Installation with tap or shower will require extra accessories and the help of a plumber
Requires more space for installation
Can't remove chlorine and heavy metals
---
6. SKYLAKE 15 Stage Shower/Tap Filter
This tap/shower filter is almost similar to the Rainbow Dots filter and Hemito filter. All these 3 filters are almost identical in size and design.
However, the Skylake bath water softener promises to filter and soften hard water through a total of 15 stages. Rainbow Dots claims to use 12-stage filtration and Hemito claims to use 10-stage filtration.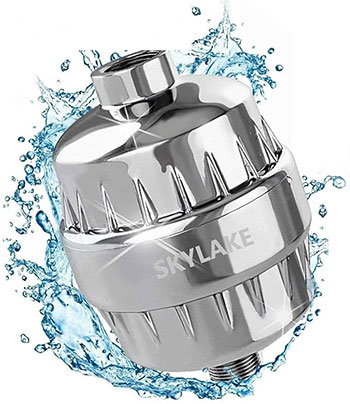 Skylake Shower & tap filter consists of KDF 55 media (Kinetic Degradation Fluxion), which removes chlorine and heavy metals. Activated carbon removes bad odor. The filter is also installed with medical stones that boost oxygen levels in water. Vitamin C balls aid in the restoration of your skin thus preventing it from various dry skin diseases? But that's not all, after taking shower you will feel revitalized than ever, all thanks to the mineralized balls. Thanks to the calcium sulfite you can shower in water absolutely free from chlorine.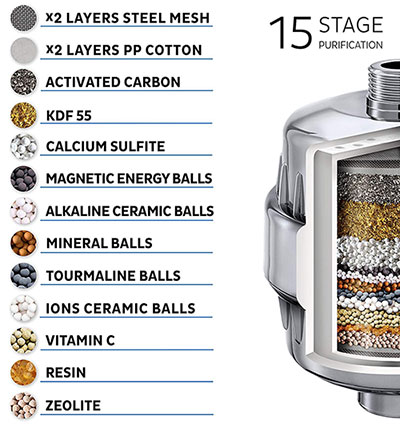 Talking about installation, installing it on a showerhead or handheld shower is easy but the product does not come with the required adapters for installation on taps. So, if you are planning to install the filter on tap then you should keep this in mind.
This bath water softener comes with two cartridges which are expected to last for about a year. The replacement cartridge is available online and lasts for 5-6 months or 35,000 to 40,000 litres of water.
PROS:
Installs easily on showerheads and handheld showers
Removes physical impurities, chlorine, and heavy metals
15 stage filter system will take care of your hair, skin and bath fittings
Comes with an extra cartridge (total 2 cartridges) that would last for 10-12 months
Replacement cartridge is easily available
CONS:
No adapters provided to connect with taps
Issues with installation on taps
---
7. BALSON Ultra 1X Bathroom Water Filter
Each and every day you expose your body to harsh impurities of your bathing water which can lead to your skin getting excessively dry and your hair to fall out?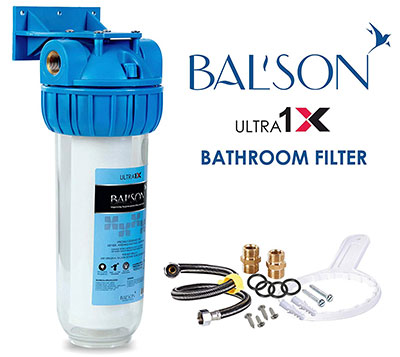 This filter is designed with the unique ASI technology that prevents scaling on your bath fittings and home appliances. This will eventually increase the life of the appliances thereby saving the repair costs as well.

This water filter removes sediment, iron & suspended solids from raw water and makes the water physically soft protecting hair fall and dry skin.
PROS:
Removes all physical impurities from water
Extends the life of your appliances
Easy to install
Can be installed near the main supply, which means clean water for complete home
CONS:
Does not seem to reduce chlorine levels
Effectiveness limited to only sediment filtration
High price
---
Who Should Buy a Water Softener for Bathroom?
Most of you might not believe, but hard water is very common in India. If you ask for the visible truth then you should look closely for a white film on your bathroom tiles, deposits on your bath fittings, spots on glassware, etc. But the severe impact hard water has is on your hair and skin, yes you guessed it right, hard water deteriorates the condition of both. And on top of all these if your water appliances are breaking down more often than usual, then you are in urgent need of a water softener.
---
Benefits of Hard Water Tap/Shower Filters?
Reduces Chlorine
Do you know showering in chlorinated water can actually be worse than drinking it? In warm temperatures, chemicals tend to absorb quickly via the skin entering the bloodstream. Also, chlorines actively react with water forming toxic byproducts like chloroform, which can be really detrimental for your health.
Makes Water Softer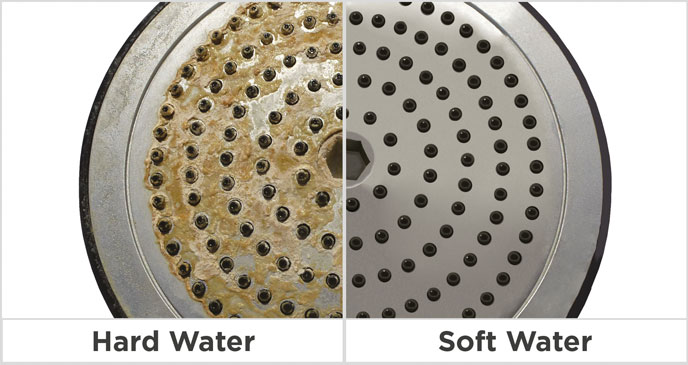 Apart from your health, hard water also has a severe impact on your water using appliances. Scaling and sediment accumulation is the most common cause of appliances like washing machines, geysers and dishwashers dying early. In fact, using hard water for a prolonged period can result in serious ailments like eczema, hair fall, and dryness of skin.
Removes Visible Impurities & Improves Visual Appearance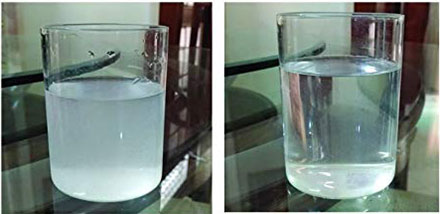 Besides containing harmful chemicals and heavy metals, raw and unfiltered water may also contain sand, mud, dust, dirt and even traces of rust and iron. Impurities like sand, mud, dust, and dirt are quite common in borewell water and traces of iron and rust are mostly found in the municipal water supply. The easiest way to find if the water contains such physical impurities is to inspect the visual appearance of water. If it does not seem clear then the water contains such physical impurities. All the hard water filters that we have discussed above can easily remove all the common physical impurities and improve the visual appearance of water.
Good for Skin and Hair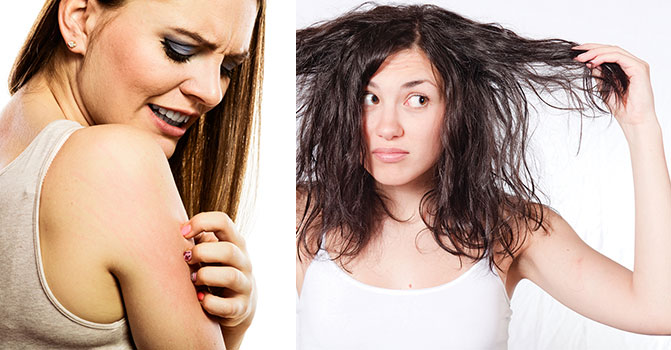 Apart from worsening dry skin, hard water may also cause a ton of dermatological complications like eczema, psoriasis, and dandruff. Hard water is also bad for your hair; it makes your hair look dull and unhealthy.
Removes Odour from Water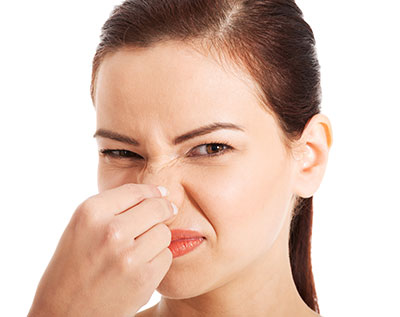 Although water is odorless it might give rise to unpleasant odor owing to the presence of certain chemical and heavy metals. Chlorine is the most common cause of unpleasant odor in homes with municipal water supply. Municipal corporations around the world use chlorine to disinfect water. And if you do not use municipal water then the cause of this pungent smell is millions of microorganisms living in your unfiltered showerhead. If the water in your home also stinks of unpleasant odor then you should invest in a multi-stage tap & shower filter that can remove chlorine and harmful germs.
Prevents Lime Scale Formation on Bath Fittings and Tiles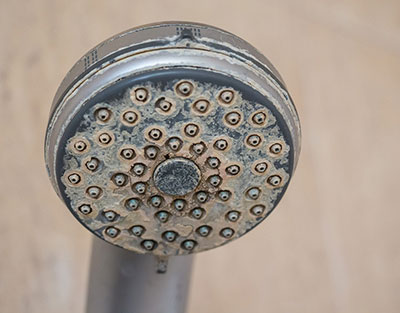 As mentioned above, if your region is facilitated with hard water you are bound to notice limestone scaling on your appliances, bath fittings, and tiles. Well, guess what? This scaling speeds up the aging process of your appliances eventually forcing you to spend on new appliances! Hard water softeners make the water physically soft that prevents scale formation on your expensive bath fittings, appliances, and tiles.
Prevents Bacteria Build-up in Showerheads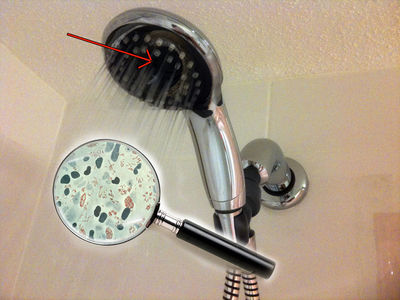 According to research reports by a scientist, 60% showerheads tested for the research contains various types of microorganisms including Mycobacteriumavium which is responsible for causing the pulmonary disorder. There are even shocking reports stating the presence of carcinogenic bacteria in your showerhead so beware! Tap & Shower filters with ceramic balls, KDF-55 filter media are good at crippling germs like bacteria, mold, and algae.
---
Tap & Shower Filter Buying Guide
Most shower filters are ineffective, as the manufacturers implement outdated filter technology in it. It is true that not all tap & shower filters are not as good as they claim. But does that mean that there are no reliable water softeners for a shower in the market and you have to live with the hard and contaminated water?
You should always look for certain things when you buy any tap or shower filter to make sure that the product does what it claims. Filtration technologies like KDF and multiple stage filtration system are effective enough to drive off contaminants and heavy metals.
We have listed down a comprehensive buying guide to help you make the right choice.
Type of Tap/Shower Filter
According to the design, here are two types of shower filters you can use:
Showerhead or Tap Filters: These exactly resemble a showerhead and even act like one. You just have to install in on top of your tap and shower. Although these appear to be a bit bulkier at the time, these are best at their job of cleansing the water from the harmful particles and maintaining constant water pressure.
In-line Filters: These models of shower filters do not come with a showerhead and you will have to install it between the existing showerhead and water line. One of the benefits for opting for this type of filter is that you need not to change your showerhead.
According to Filtration Technology
Multi-Level Carbon Filters: These types of filters use similar technology used by other water filtration systems. The filters lead the water through several mediums each designed to remove a specific type of impurity. Some of the filters even filter the water by pushing it through 10-12 mediums.
KDF Filters: These filters either can be used in combination with carbon filters or can be used alone. Made of copper and zinc these are extremely effective in removing harmful heavy metals, bacteria, and viruses. Also, these filters are very useful in removing other impurities from the municipal water.
Vitamin C Filter: Vitamin c filters can also be used in conjunction with carbon and KDF filters. When it comes to removing chlorine and chloramines particles, this filter simply proves itself to be the best. If you want to see improvements in your skin, you should make use of this shower filter for hard water.
Initial Price & Cost of Cartridge Replacement
The hard water filter which you will order will come with an inbuilt cartridge and some manufacturers also provide an extra cartridge. Upon exhaustion of these, you need to replace your cartridge with a new one. So, apart from the initial one-time cost you should also check and compare the cost of the replacement cartridge. You wouldn't want to throw the filter when you later find that the replacement cartridge is priced very high.
Cartridge Filtration Capacity
This feature is also brand specific and thus before buying you should check this. It helps you to understand how much water the cartridge can filter before finally giving up. Accordingly, you can arrange for its replacement. Most cartridges of tap filters last around 6 months to a year or 20,000 litres to 40,000 litres of water. If you don't want to go through the hassle of replacing the cartridge too frequently then it is better to go for a shower filter with maximum cartridge life.
---
Hard Water Tap/Shower Filter – FAQs
Is it safe to drink water from a water softener?
No. These tap & shower water softeners are not recommended for purifying drinking water. Because these compact hard water softeners are not capable of giving you water that may be fit for drinking. Raw water can contain several types of impurities and dissolved solids (TDS) which can only be removed with a water purifier.
Does a water softener lower TDS level of water?
A water softener does not lower the TDS level of water and they follow the exchange process. The magnesium and the calcium ions, which are the constituents of hard water gets removed or their chemical properties are changed in this process. As the water flows through the filter it goes through several layers which do not lower the TDS levels of water.
Will a water softener remove scaling from bath fittings?
Yes, a water softener not only cleanses the water and makes your skin and hair better, but it also removes the scaling on your bath fittings. Calcium in water is the main constituent that is mainly responsible for scale formation on bath fittings and water using appliances. These water softeners change the sticky nature of Calcium to give you physically soft water. All good water softeners will definitely reduce the formation of scale on bath fittings.
Does a tap & shower water softener remove Chlorine?
If you want a filter which will remove chlorine from your tap water, then you should opt for a multi-stage tap & shower filter that has an activated carbon layer, calcium sulfite or KDF 55 layer. Not all water softeners can remove Chlorine and you should check this before choosing one.
How long should a tap & shower water softener last?
The longevity of your tap & shower hard water filter depends hugely on the quality and quantity of the water. Most tap & shower filter available online, including the ones we reviewed above, require you to replace the filter cartridge after every 3-6 months or every 20,000 to 40,000 litres of filtered water.
---
Final Verdict
As you can see in the reviews of hard water filter for tap you can see that each and every model is unique in some sense. All of these have one thing in common, they do their best to filter out contaminants from the water so that you can bath and shower in clean water. Ultimately, you need to first determine your own preferences and then select a filter that you think will be best suited for you.
Like this information? Or have something to share? Connect with us on Facebook