Eureka Forbes Aquasure Amrit 20 Litre Water Purifier
No electricity or running water required
100% chemical free purification
High storage capacity
Natural shut off
It is indeed difficult for an average Indian household to get clean, safe, and pure drinking water because the water coming in majority of homes may cause problems regarding health and hygiene. The more worrying part is this problem is faced by the people on a day to day basis, so it is pertinent for them to rid themselves from this constant problem.
The water problem is even more severe in rural parts as most of the rural India does not have any proper water supply. Lack of regular electricity and unavailability of running water not only makes the day to day life difficult but also makes water purifiers that run on electricity ineffective.
This is where Eureka Forbes Aquasure Amrit 20 Litre water purifier proves highly useful and effective. The Eureka Forbes Aquasure Amrit is an amazingly effective water purifier that protects your family from various diseases that are caused by drinking unhygienic water.
Its large body holds as much as 20 liters of water that is enough to fulfill daily water consumption requirement of a small family. One of the most beneficial features of Aquasure Amrit is it doesn't require any electricity or running water to function. Its unique Kitanu Magnet technique of filtration makes water 100% chemical free.
Features of Eureka Forbes Aquasure Amrit 20 Litre Water Purifier
Toughened Body: Made of non-breakable material.
No Bacteria, Virus or Cyst: The Kitanu Magnet removes all disease causing bacteria, viruses and cysts to give pure and safe drinking water for your family.
No Boiling: It ensures complete freedom from all hassles of boiling.
Natural Shut Off: Equipped with a natural shut off mechanism to monitor purification and naturally shut off when the useful life is over.
No Running Water or Electricity: Does not require running water or electricity. Portable, can be carried along.
Storage Capacity: 20 litres, Bottom Transparent Container Water Capacity: 11 L, Top Transparent Container Water Capacity: 9 L
Warranty: 12 Months on Product

Rs. 2,098

Rs. 2,499
×
Product prices and availability are accurate as of the date/time indicated and are subject to change. Any price and availability information displayed on Amazon.com (Amazon.in, Amazon.co.uk, Amazon.de, etc) at the time of purchase will apply to the purchase of this product.
8 new from Rs. 2,098


How Eureka Forbes Aquasure Amrit 20-Litre Water Purifier Works?
The team of Eureka Forbes spent years of research and efforts in developing and implementing the "Kitanu Magnet" nano technology, which makes sure that all kinds of impurities and microorganisms are removed from the water. The Kitanu Magnet Cartridge's biggest attribute is it doesn't use any chemical for purification purpose. AquaSure Amrit with Kitanu Magnet is powered by PCT (Positive Charge Technology), a safety shield, letting only pure crystal clear water flow from the faucet.
Basically, Eureka Forbes Aquasure Amrit is a gravity based water purifier and it uses three filters:
Microfiber Mesh / Pre-Filter
After pouring water into the upper-most tank, the microfiber mesh starts its purification work. It eliminates bigger particles and physical impurities from the water such as sand, dust, mud or any visible impurities.
Activated Carbon Trap
In the second stage, the inlet water passes through the activated carbon trap where the chemical impurities, as well as bad odor, bad taste and bad color, are effectively removed.
Kitanu Magnet Cartridge
Finally, the Kitanu Magnet Cartridge is a patented filter of Eureka Forbes that uses no chemical at all. It is also capable of trapping bacteria, viruses and other disease causing microorganisms from the water.
Design and Construction
In terms of design and construction, the Aquasure Amrit is attractive looking and made from 100% food grade and non-toxic plastic. It means you can store water inside this purifier for as long as you would like to. The twin water containers one over the other give it a super-sleek and attractive look. When it comes to the convenience, you can keep it at any place in your home.
High Storage Capacity
The 20 liter capacity of the Aquasure Amrit is unusually high, which makes it quite sufficient for a small to medium size family.
Kitanu Magnet
Just like a magnet attracts iron particles, Kitanu Magnet has more than 100 Crore optimally charged active sites that attract, pull and remove bacteria, viruses and cysts from water. The result is pure and safe drinking water for you and your family.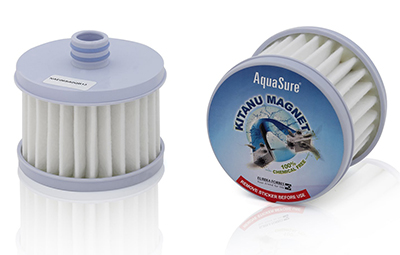 Device Specifications
Model Name
Aquasure Amrit with Kitanu Magnet
Storage Tank Capacity
20 litres, Bottom Transparent Container Water Capacity: 11 L, Top Transparent Container Water Capacity: 9 L
Purifying Technology
Gravity Based
Filter Cartridges
Kitanu Magnet
Purification Capacity
2250 litres
Total Dissolved Solids (TDS) Levels
1 – 200 mg / litre
Input Water Temperature
10 – 40°C
Material of Construction
Food Grade, Non-Toxic engineering Plastics
Input Water Turbidity (max)
10NTU
Installation Type
Table Top
Width
38 cm
Height
27 cm
Depth
42 cm
Net weight
2.71 kg
Other Convenience Features
No Virus, No Bacteria, No Cysts, No Electricity Required, No Running Water Required, 100% Chemical Free Purification, No Boiling Required
Found this review for Eureka Forbes Aquasure Amrit Water Purifier useful? Please leave a comment below or share your love by connecting with us on Facebook.
High Quality Gravity Based Water Purifier for Municipal Water
Installation, Warranty & Service
9
PROS
No electricity or running water required
100% chemical free purification
High storage capacity
Natural shut off
CONS
Not suitable for high TDS water